Last Updated on January 27, 2023.
In this article, I will list the different instrument VST plugins you can get your hands on, both premium & free ones, and I will be covering absolutely everything there is to cover: Synthesizers, Guitar, Bass, Piano, Choirs, Orchestral, Brass, Drums, and more!
It's going to be a pretty extensive list, which is why you should consider using the table of contents to jump to the desired section more quickly.
Now, without any further ado, let's get started!
Best Synthesizer VST Plugins
Here I will start with the best Synthesizer plugins and move on from there, and I will make sure to include one for every budget.
Powerful emulation of Vintage Hardware Synths!
Diva is a synthesizer that captures the spirit of various analog synthesizers (Moog Minimoog, Roland Jupiter 6/8, Roland Juno 60, Korg MS-20, and a digital combination of the Roland JP-8000 and Oberheim SEM, all of this in plugin form) by letting the user select from a variety of alternative modules.
The oscillators, filters, and envelopes closely model components found in some of the greatest monophonic and polyphonic synthesizers and you can swap between the different oscillator and filter banks of each of the 5 emulations mentioned above, giving you a total of 25 combinations.
Diva is pretty easy to use despite the Interface looking a bit complex, with the only downside being that it's quite CPU intensive.
However, this is worth it since it sounds absolutely fantastic!
The reason I included it on this list is that it's the perfect middle ground between analog and digital synthesizers since it emulates 5 well-known analog synths, but with some added flexibility.
Get Diva by U-He here: Pluginboutique, Reverb, Sweetwater.
Massive X by Native Instruments ($199)
One of the most powerful synths out there!
The original Massive synthesizer by Native Instruments is one of the best-known synthesizers of all time, just like Serum (the next one on this list), but NI recently decided to release an updated version of their flagship synth, Massive X.
The original Massive has 3 oscillators, where Massive X only features two, but it also features three insert effects slots for adding more oscillators, as well as 170 wavetables and wavetable mods that can be stacked on top for extreme flexibility.
Its interface has two distinct rows of "rack modules": The upper one always shows the synth controls, while the lower row switches between the different tabs for modulation, routing, and voice setup.
Massive X's primary sound generation comes from the wavetable oscillators with banks of preset wavetables that can be twisted and modified in many more ways than in the original Massive Plugin (you get 10 modifiers with multiple sub-modes and individual controls to completely warp the sound at the oscillator level).
The original Massive has four envelopes and four multi-mode modulators that can be switched between LFO, Performer, and Stepper modes, whereas Massive X, has three Performer mods, one dedicated Amp Envelope, and eight more modulators that can be switched between envelope and LFO (LFO are available in Random and Switcher types).
Lastly, it comes with over 600 presets, 170 wavetables and 10 different modes of reading them (from the aggressive Gorilla family to a wavetable-bending mode, Hardsync, Formant, and more).
Get Massive X here: Native Instruments, Sweetwater,
One of the best-known Synthesizer VSTs!
Serum is one of the most well-known soft synths out there and you won't find any music producer that hasn't at least used it in a couple of their music productions, and it's one of the most prominent names in the electronic music space.
It is a Wavetable synthesizer and it has virtually no processing limitations, which makes it incredibly powerful, and users can create their own wavetables, import their own audio, mix and max wavetables using standard linear interpolation, or even draw directly on the waveform to come up with something unique.
The playback of wavetables requires digital resampling to play different frequencies and this tends to create a lot of robotic artifacts in most synthesizers, but Serum handles this extremely well, producing crystal-clear audio.
Serum even comes with a built-in FX suite featuring 10 effects modules that can be reordered any way you want and all the effects parameters are also available as modulation destinations (Example: apply an LFO to control reverb size or dry/wet, or velocity to control distortion amount).
Lastly, Serum comes with over 450 presets and a total of 144 wavetables.
Get Serum here: ADSR Sounds.
Odin 2 by TheWaveWarden (Free)
Odin 2 is a 24-voice polyphonic hybrid synthesizer that offers endless modulation capabilities and features three different oscillators (8 different oscillator types and three different engines) as well as filters, five effects such as delay, chorus, flanger, phaser and reverb, four envelopes and LFOs, as well as an arpeggiator and a modulation matrix, and even an X/Y controller.
In addition to this, it also comes with a lot of presets already included.
What makes Odin 2 stand out is that you can one of the oscillators as a source within another oscillator, and you can draw your own waveform and import that into another oscillator, which allows you to create some powerful and interesting sounds quite quickly.
Check out all of Odin 2's ins and outs as well as how it sounds here:
Download it for free here.
Related Posts:
Best Bass Synth VST Plugins
If you're looking to produce pumping bass lines, then these plugins are definitely worth checking out.
Best Bass Synth Plugin for EDM!
Bass Master is a strictly bass-oriented virtual instrument that was created by Loopmasters and like most modern VST plugins, it is compatible with all VST and AU plugin hosts out there.
Creating great basslines that sit well in a mix can be a bit complicated, and this is usually achieved by layering different synths and samples manually.
Luckily, Bass Masters helps with this tremendously since it blends two layers, the Top- and Sub-Layers, together.
It is a very simple plugin to use and getting a good sound out of it doesn't take too much time or skill.
Bass Master is a sample-based instrument that features a total of 217 actual bass sample "waveforms" that serve as the sound source for both layers.
Now, Bass Master comes with over 350 mix-ready presets, which means that dialing in a tone is pretty damn easy.
The onboard filter offers 13 filter types: including a range of low-pass, band-pass, and high-pass models, ladder filters, and a comb filter.
Three effects are also included; Distortion, Stereo Chorus, and Reverb.
As far as customization goes, Bass Master probably offers more than you could even ask for, plus it sounds absolutely fantastic.
Get Bass Master here: Pluginboutique.
If you know anything about bass synths, then you probably heard of Rob Papen, who has created other famous synths such as the Punch and the Predator.
SubBoomBass 2 is the successor of the SubBoomBass I and has received an Interface makeover for more comfortable use and control of all the features, which are a lot.
It still has its analog-modeled waveforms onboard which were obtained directly from pitched-down samples of instruments, and the sound color has been expanded with new spectrum waveforms.
With this synth you will have access to a high number of high-quality presets that should get you going in no time, allowing you to create a deeper and richer low-end in a matter of minutes.
Additionally, an "Easy Edit" mode is also featured in this synth;
What this allows you to do is reduce the overwhelming number of controls in order to make the workflow easier and faster.
Lastly, it features a distortion stage, amp section, two filters, a step sequencer, a modulation section, and an effects unit.
Demo Track:
SubBoomBass 2 gives you access to great-sounding deep basses that immediately sit well in the mix, and it's a plugin you should consider if you're a serious dance-, hip-hop, or any other kind of electronic music producer.
Get SubBoomBass 2 here: Plugin Boutique, Reverb, Sweetwater.
Tal-Bassline by Tal-Software (Free)
Tal-Bassline is a synthesizer especially made for creating super beefy bass lines and it's capable of giving you those acid tones and effects that you hear everywhere.
It's mostly used in Trap, EDM and other kinds of music where the Bass is emphasized.
If you're looking for a synth to enhance your song's low end, Tal-Bassline might be the one for you.
Download it for free here.
Related Articles:
Best Realistic Bass VST Plugins
I just listed Bass synth plugins, but if you're looking for a more realistic or acoustic sound, then these are the ones you need:
Most realistic-sounding Bass VST!
With Trilian you get over sixty different 4, 5, 6 and 8 string Electric basses that are presented in fingered, picked, fretless, slapped, tapped, and muted technique variations – providing a huge variety of sounds for any musical genre.
It packs one of the largest sample libraries out there, with over 34GB of high-quality samples of basses such as; Music Man 5-string Studio Bass, Chapman Stick, Lakland Rock P-Bass, and more!
It features Trilian's acoustic bass, which is the most detailed one in their collection since it has 21.000 samples.
Lastly, some of its editing features are; DI mix, round-robin variations, dynamic slides, automatic legato, and more.
Demo Track:
Trilian is absolutely fantastic; it's super realistic and sounds great…
The only downside may be the high price tag, but you are getting one of the best bass plugins out there.
You can get Trilian Here: Best Service.
I already mentioned Impact Sound's Shreddage Guitar plugins in another post, and I honestly believe that they are absolutely fantastic.
They also came up with a couple of bass libraries that have a thorough set of articulations, round robins (RRs), and velocity layers, as well as open and muted notes, staccato notes, neck slides and true hammer-on and pull-off samples.
They offer three Bass Libraries which are; Shreddage 3 Abyss, Shreddage 3 Precision, and Shreddage Bass: Picked Edition.
You can get the Shreddage Basses here: Best Service.
GK Amplification 2 LE (Free)
Modeled after the Gallien-Krueger MB150 amp, the GK Amplification 2 LE can be used as a standalone application or as a VST/AAX/AU plugin.
It is the light version of the GK Amplification 2 Pro, which means that it only includes a single amp model with a single speaker and mic option compared to the full version which has more.
GK Amplification 2 LE includes all the functions and all controls of the original amp.
The great thing is that it can be used for recording in the studio or at home, for band practice, or even live performances since the delay isn't noticeable.
It is available both for Windows and Mac OS.
You can download it here.
Best Drum VST Plugins
In this section, in order to keep this article as "short" as possible, I will include drum samplers, drum machines, and acoustic drum kits.
Fastest-growing drum plugin in the hip-hop industry.
The most powerful and flexible drum sampler on the market today.
One of the best drum VST plugins available on the market today, and one of the OGs in the world of drum samplers VSTs, and my personal favorite, is Native Instruments' Battery 4.
It has a massive drum library for electronic and hip hop music, its interface is fairly easy to use, and has a color-coding system that'll make your workflow much smoother.
It is full of effects, from a SOLID EQ with superior precision and control, to a SOLID BUSs COMP for finishing off mixes and adding an amazing high-end sound to your drum track. TRANSIENT MASTER to fix muddy recordings, reduce reverb, enhance attack, control mix presence, etc. Tape saturation, LoFi, and a powerful convolution reverb.
Instantly find and arrange your sounds due to its easy-to-use interface, drag and drop simplicity, and give your hip-hop production the 'kick' it deserves.
Here's a video where you can learn the basics of Battery 4:
Lastly, you can purchase Battery 4 for $199, or unlock it for $9.99 per month as part of KOMPLETE NOW, which is a curated bundle of essential instruments and effects by Native Instruments.
Get Battery 4 here: Native Instruments Website.
Best retro 80s sound Drums!
Synthwave Drums V2 is a resurgence of the 80s drum style that brings you all the popular drum machine sounds as well as dry and processed versions that sound exactly like the records of those years, and especially like the movies of those days.
It features a total of 63 kits with twelve sounds each and they all sound phenomenal! I absolutely love that "Stranger Things" vibe you get from it.
As far as ease of use goes, Synthwave Drums V2 is unmatched: The interface is extremely simple with just a couple of pads as well as a few knobs to control the sound, but that's about it, and if you're unsure of where to start, then you could choose one of the 100 included presets.
Not only that, but this is one of the most affordable plugins on this list and one of the greatest retro-sounding drum plugins ever created.
Features
12 drum samples per kit
63 drum kits
100 presets
Effects such as reverb, pitch, volume, pan, release
Get Synthwave Drums V2 here: Pluginboutique.
Top Acoustic Drum Choice: Easy to use and fantastic sound.
Weirdly enough, EzDrummer 2 was the first drum VST I ever bought, even though it's fairly expensive and there are also some other free ones out there, and luckily it didn't let me down. Fast-forward 10 years and EzDrummer 3 has been released!
EZdrummer has always been the number-one selling drum VST plugin in the world for music production since it's designed to be quick and easy to use since you can simply drag and drop the sample grooves you need onto a midi track and you're ready to go.
The grooves are performed by professional drummers and are recorded with top-notch gear in some of the best studios available.
If you don't want to use the grooves that come with EZdrummer 3 you can easily create your own via a MIDI track.
It even comes with a "Song Creator" tool that allows you to drag-and-drop grooves and EZdrummer 3 will suggest other ones that have a similar feel, which simply allows you to not have to worry so much about the technical side of creating a drumbeat but rather focus on making music.
It features five different drum kits like "Modern" and "Vintage", for example, and if you need a couple of new ones for other music genres, you can always purchase the upgrade packs.
The cool thing about EZdrummer, and also the reason that I think people like it so much, is that it's all about creating beats quickly without any fuzz.
Additionally, you can easily adjust the tempo of the song, or even tap the tempo yourself.
In all honesty, it sounds great right out of the box, which is also the reason that I enjoyed using it so much over the years.
However, should you want to add some effects, EQ, Compress, or do anything of this sort, the built-in mixer will allow you to do this easily.
What are its strengths; Good for composing and quickly laying down drum tracks. Good all-rounder.
Features
Tap to find your groove
Add percussion on the fly
Customize any groove in real-time
Write an entire drum track without leaving the program
Two sound libraries with five (5) kits in total
Powerful audio engine
Find out more about Ezdrummer 3 here: BestService, Sweetwater.
Related: Here's a list of the best DAWs currently available.
Most In-depth acoustic Drum VST!
I just mentioned that EZdrummer was designed with ease of use in mind, and this is because it's more of a quick composition tool that also sounds pretty damn good, with the whole point of it being to not make you spend hours editing the drum tracks, but rather create cool-sounding music in no time.
Superior Drummer 3 is a bit different, or quite different!
It's designed for hours of in-depth tweaking and editing and its emphasis is not on composing music fast, but rather on creating the best-sounding drum tracks you can.
This is because it comes with over 230 GB of raw, unprocessed sounds in 44.1kHz/24-bit, giving you full control over the processing of those files, unlike EZdrummer.
It also features 6 drum kits and some additional instruments, as well as a built-in mixer.
Toontrack has made transferring presets from EZdrummer 3 to Superior Drummer extremely easy, which should at least help things get moving a bit quicker in SD3.
Lastly, Superior Drummer 3 also allows you to drag-and-drop drum audio tracks into the "Tracker" window to identify hits, replace sounds or convert entire drum tracks to MIDI.
Just like with EZdrummer, SD3 allows for loads of expansion packs which are available here.
What are its strengths; Good for creating the best-sounding drum tracks thanks to its in-depth tweaking capabilities.
Features
Over 230 GB of raw, unprocessed sounds in 44.1 kHz/24 bit
6 Drum Kits and additional instruments
Recorded with an additional eleven separate room microphones set up in a surround configuration for a completely immersive experience
Playback in stereo or up to 11 channel surround systems
Engineered by George Massenburg
Integrated offline audio to MIDI conversion
Approx. 350 vintage and classic drum machine sounds
35 mixer effects
Find out more about Superior Drummer 3 here: BestService, Sweetwater.
Drumatic 3 by e-phonic (Free)
Drumatic 3 is a virtual-analog drum synthesizer. All sounds are 100% synthetic and allow for huge flexibility and variation.
It sounds pretty good, just remember that the sounds are nowhere close to a real drum, but that's the whole point.
Some additional features come in the form of graphical envelopes for amplitude and modulation and a simple effects section that includes distortion, a bit crusher, and a filter.
The available sounds are Bass drum, Snare drum, Handclap, 2 Toms, Hi-hats, and a Rimshot / Bell.
You can download it here.
Steven Slate Drums 5.5 (Free)
These are samples of a real acoustic drumkit by Steven Slate, and this plugin is a stripped-down version of their fully featured premium plugin sold for $149.
However, even though you don't get the fully featured version, SSD 5.5 Free is an absurdly good-sounding plugin that any beginner should have; It comes with just one drumkit but it features three different presets, each already pre-mixed, and it allows you to control the dynamics of the drums.
Even though SSD Free is a cut-down version of their premium plugin, it's much better than most other free acoustic drum plugins out there, so definitely give it a shot!
You can download it free here.
Related Articles:
Best Orchestral, Strings, Brass, Piano, and Choir VSTs
Here I will include multiple plugins, from full orchestral ones to just single instrument ones, like Piano, Saxophone, etc
Extremely High-Quality full orchestra!
The Orchestra Complete 2 is a full 80-piece orchestra. At the center of TOC2 is its Ensemble Engine, a cutting-edge tool with powerful arpeggiators and dynamic motion envelopes. With this orchestra VSTi, you can create complex arrangements with simple chords for quick, efficient realization of your musical ideas. This virtual instrument includes 475 playable orchestrations and patterns, MIDI export, and an intuitive preset browser.
TOC2 is designed to be simple and easy to use and mainly aimed at those who are trying to complete projects on a tight schedule, allowing you to throw compositions together that also sound great in a matter of minutes.
You will need to already own or purchase the Orchestra Essentials in order to use this one, however, but the upgrade is well worth it.
Get TOC2 here: Best Service, Reverb, Sweetwater.
Layers by Orchestral Tools (Free)
Layers is an ultra-realistic orchestral sample library that features a full orchestra, Brass-, Woodwinds-, and Strings sections.
You can choose between a couple of different mic positions and it also features different articulations; different chord types, staccato and sustain unison, and more.
In total, the sample pack is about 17GB and runs on Windows 10 and Mac OS.
Lastly, Layers works with Orchestral Tools' SINE Player.
You can download Layers here.
Unconventional sound, making it different from other strings libraries!
The Analog Strings library features two strings orchestras, vintage synths, and unconventional elements for sound design that it uses as its audio source, which means that it differs from the traditional orchestral string libraries quite a lot.
It is important to note that Analog Strings is a KONTAKT Instrument that features a two-layer playback engine; however, you don't need the full version of KONTAKT since it will run on the Free KONTAKT Player.
Some of the unconventional sounds it has to offer are a plucked piano, tape echoes, and guitar resonance, and all of the available presets, which are 500, can be accessed through the menu and searched by category.
In addition to the presets, Analog Strings comes with a set of tools, such as step sequencers, effects like reverb and delay, modulations, a dual arpeggiator, and more, to help you shape the sound to your needs.
Lastly, you also have the ability to use soloist patches of recordings of contrabass, cellos, viola, and violin.
Get Analog Strings here: Pluginboutique, Best Service, Sweetwater.
Most Versatile Piano Library (500 sounds from 36 Pianos)!
Keyscape is one of the biggest and most versatile piano libraries in existence.
It features a total of 500 sounds from 36 different pianos like upright pianos and grand pianos, as well as electric and digital pianos, clavinets, and various different keyboard types.
Take into consideration that you will need 80GB of free hard drive space as well as a powerful computer for it to work.
So, make sure to check the computer specifications that they recommend before purchasing it.
One interesting feature about Keyspace is the "Hybrid Duo Sounds", which lets you combine two of the instruments to create something entirely new; Like combining a grand piano with a church organ, and more.
What I like about this library is that it sounds extremely realistic, and they managed to accomplish this by allowing all the imperfections of each instrument to stay in the library instead of cleaning them up, since all the quirks of each instrument make them what they are.
You can even adjust these imperfections, like mechanical noises, pedal noises, and many more.
In addition to this, you can shape the tone to your liking thanks to the built-in custom controls, which you can use to add effects, control the microphone placement, and more.
Lastly, Keyscape also integrates fully as a satellite instrument with Omnisphere 2, allowing for some extra functionality, like Live Mode, Stack Mode, Multitimbrality, and more.
Keyscape by Spectrasonics is available in AAX, AU, and VST formats and works on both Windows and Mac on 64-bit systems.
Listen to Keyscape here;
Get Keyscape here: Best Service, Sweetwater.
Goes lower than most traditional Pianos!
The Vienna Imperial library by VSL is recorded on the Bösendorfer Imperial 290-755, meaning that it has nine extra notes below the lowest A note on traditional pianos, and it's the largest piano sample library ever created with 1.200 samples per key, providing you with precise sampling detail.
This library is considered to be one of the most realistic ones currently available in the world, and it features pedal-up and pedal-down notes in up to 100 velocities, comprehensive sympathetic resonances, and multiple release samples.
As far as the interface goes, it comes with a Basic View, which lets you choose between three recording positions (close, player, and audience), as well as an Advanced View, which gives you quick and easy access to more control options such as convolution reverb, EQ, pedal noises, sympathetic resonances, stereo width, MIDI sensitivity and more.
This library also lets you choose between different microphone perspectives, including player and audience perspectives, as well as built-in effects such as Reverb and also an EQ.
All of this lets you control the sound in a very specific way to fit your needs, and this is also why this sample library is probably one of the best ones you can get, even considering the price.
It is also a fantastic sample library to use for orchestral music, contemporary pop, rock, and even jazz songs since it can easily sit within any mix.
The Vienna Imperial library offers a total of 69.663 samples in a 46GB pack, and it works on both Windows and macOS on 32bit and 64bit systems.
Listen to the VSL Vienna Imperial library here;
Get VSL Vienna Imperial here: Sweetwater.
Monastery Grand by MeldaProduction (Free)
Hollywood Brass ($149)
Recorded in the hit machine that is EastWest Studio 1 with the help of Shawn Murphy (Titanic, Star Wars Franchise, Indiana Jones Franchise), these sounds were made in Hollywood with the intention of pumping them right back into Tinseltown.
It features 5 adjustable mic positions with solo and ensemble capabilities, and its muted sounds are among some of the best you will find. All these samples can be processed through its built-in reverb unit and envelope generator.
Hollywood Brass requires an iLok account and the download of EastWest PLAY 6 sample player, which is available for free on their website.
It also requires a minimum of 20 GB but offers a free hard drive when purchased. This sample library will only cost you $150, so it's ideal for those looking to add some brass to their bounce without breaking the bank.
Find out more about Hollywood Brass here.
DVS Saxophone (Free)
Designed for expressive playing, careful attention was paid to the way 'velocity' and 'pitch bend effect the filters, also the reverb has been configured to compliment the saxophone sound.
Download DVS Saxophone here.
BellsEbuth (Free)
BellsEbuth is a sampled orchestral bells (modern glockenspiel).
It contains 40 stereo samples from the University of Iowa Electronic Music Studios public domain library.
Samples are gently spread in stereo through the keyboard.
40 stereo 24 bit samples.
Release time.
Sustain level.
Amplitude dynamic range control.
Main volume.
Download BellsEbuth here.
Best choir library overall and tailor-made for film music!
Being the highly successful successor to the "Symphonic Choirs" library, Hollywood Choirs is a choir library intended for film, hence the name. You have absolute control over a full choir with dramatic dynamics – soft and lyrical, to epic and overwhelming.
Hollywood Choirs gives you an excellent way to transform the quality of your cinematic compositions or simply provides you with another powerful resource to build outstanding productions.
One outstanding feature is the "WordBuilder" engine, which lets you type in any sort of word or phrase and hear it being performed in real-time in unison by the entire choir, and if you need to get things going quicker you can always reach for their 781 phrases preset.
The built-in English, German, Italian, Spanish and Latin phrases give you a wide range of artistic potential, and you can string them together to effortlessly achieve an imposing result in minimal time.
Of course, this plugin comes with all the essential tools to shape the audio, such as attack, decay, sustain and release, as well as adjusting the choir vocal articulations, vowels, pitched, and non-pitched consonants.
Get Eastwest Sounds Hollywood Choirs here: Best Service, Reverb, Sweetwater.
Best Choir Library under $100!
Olympus Choir Elements is a powerful virtual choir instrument for Kontakt, Komplete Kontrol, and S-Series keyboards that offers 63 different voices with all major vowels such as Ah, Ee, Eh, Ei, Ih, Mm, Oh, and Oo.
You'll find sustains, staccato, and marcato, with pp-ff dynamic layering and intelligent round robin.
It sounds absolutely phenomenal and extremely realistic, much like the choirs you hear in some scenes of epic movies.
Additionally, it features a fully Automatable UI, allowing for full- and easy control over the performance.
Every preset has access to over 50 integrated convolution reverb impulses and a full 3-band Equalizer. Many presets also have an optional vibrato feature to simulate molto forte.
The Vowelmaster preset provides live sustain and staccato switching for any vowel for each section, with layer blending and stacking, dynamic shaping, and total performance control.
Also, it features Soundiron's FX rack which allows you to tweak the sounds to your liking.
All in all, I think that the Olympus Choir Elements is the best Choir library you can get for under $100.
Get Olympus Choir Elements here: Pluginboutique, Best Service.
Virgin Choir by ANGLE (Free)
Virgin Choir is a VST plugin that generates the sound of a female choir with a very convincing sound quality.
The plugin is entirely free, and includes several features that professional plugins usually integrate: multiple articulations with easy key switching, velocity sensitivity for the choir singing, a sequencer mode, and some more.
I downloaded the 64-bit version and loaded it up in my DAW and it just worked right from the start, without any issues.
For being free, it's actually quite damn impressive.
IMPORTANT NOTE: Before considering using Virgin Choir, please note that the plugin cannot be commercially used because of the samples that were used to create it.
Make sure to start by reading the included README text file first before doing anything else since you don't want to run into any problems.
Download Virgin Choir here (Video description and click the download links).
Best epic-sounding and most beautiful harp
Elysium Harp is a virtual instrument library for Kontakt modeled after a 47-string grand concert pedal harp. SoundIron, the creator, recorded the massive Lyon & Healy bronze concert harp with lots of detail and gave it advanced controls.
User Interface: The user interface only has six main controls: swell, attack, body, release, offset, and vibrate which keep it simple and versatile.
Features
The plugin gives you access to three stereo mic positions, advanced real-time gliss, arpeggiator sequencers, instant pedal presets, and a full FX rack.
Elysium Harp is a great harp plugin for those looking to experiment heavily with the sound of their harp. You can really fine-tune and get a wide range of sounds with it. And, if you're interested in a more epic and beautiful sound, say, for a fantasy video game or story, this harp may be your best choice.
Get Elysium Harp here: Pluginboutique, Best Service.
Best classical music harp!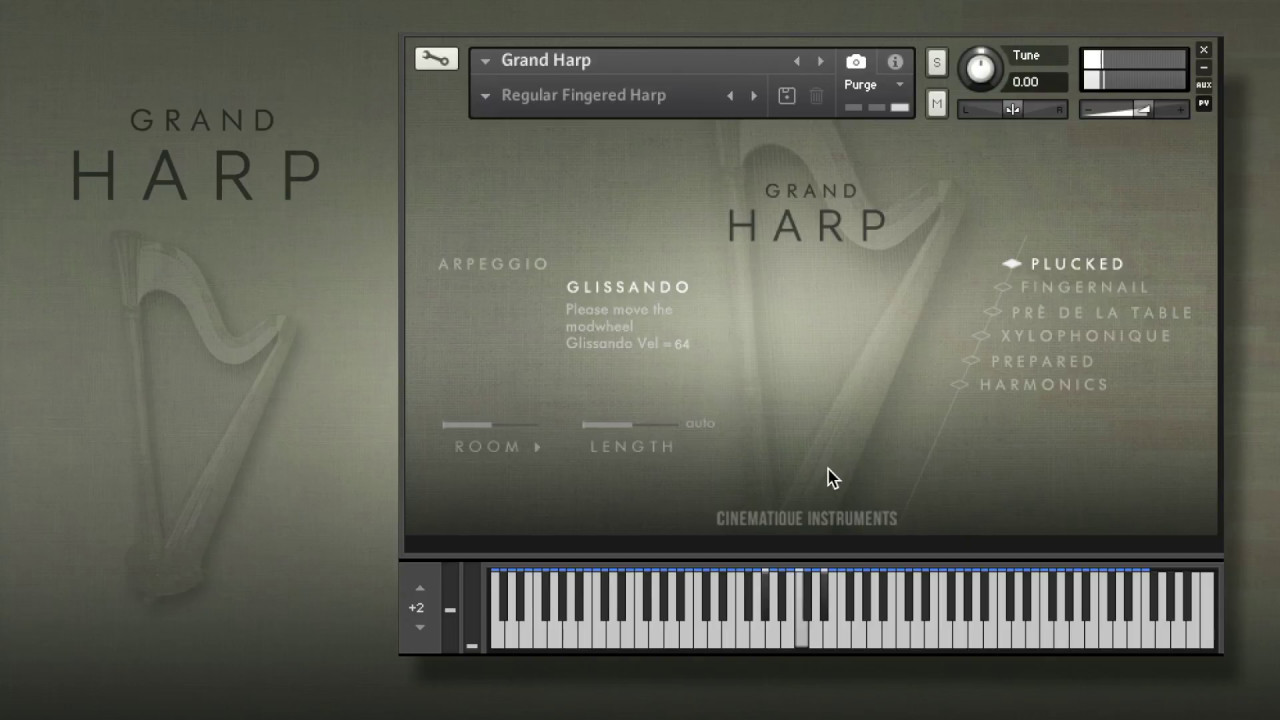 The Grand Harp is a large and modern-sounding harp designed mainly for classical music. The Grand Harp is similar to old ancient harps such as a Celtic Nylon Harp.
User Interface: The user interface is a relatively minimalistic Kontakt display with basic ADSR controls, six different plucking styles, and a "church" reverb.
Features
Six articulations, a 16-step arpeggio, and a glissando mode.
Grand Harp is an excellent choice for those interested in creating classical music with amazing control over their articulations but without getting overwhelmed by a large number of controls.
Get Grand Harp here: Pluginboutique, Best Service.
Related Articles:
Best Harmonica VST Plugins
Let's kick things off with the Harmonica Plugin I consider to be the best-sounding and most versatile one, the Chris Hein Chromatic Harmonica!
Important: You will need the full version of Kontakt for it to work!
Now, this one is by far the best Harmonica plugin you could ever get since it sounds amazing.
The user interface provides a multitude of functions to edit the sounds to your liking, but if you don't want to go through all the trouble of editing, then you can simply select from 26 different presets and move on from there.
Like I mentioned, this would be your best choice, even though you would need to spend a lot more than on any other harmonica VST.
Additionally, if you don't have the full version of Kontakt, you would have to purchase that as well.
Features
4 octaves
3.5 GB uncompressed sample content
almost 7,000 samples / 14 articulations / up to 8 dynamic layers
unique phase-alignment technique / 4 dynamic modes
Hot keys / intelligent legato / glide mode for realistic "live" runs
Find out more about the Chromatic Harmonica here: Best Service.
Get KONTAKT here in order to use this plugin.
This is a replication of a real harmonica that features a wide key range with several octaves of every note in the 12-tone scale.
The chromatic harmonica can be played in any key, allowing for versatile use throughout several different genres of music.
This instrument is widely used for playing blues, folk, and county as well as classical, jazz, and pop.
With its precise articulation and definitive tone, it stands out as a pristine virtual instrument.
The sound quality is pretty good, especially in the lower notes; as soon as you start going higher it ends up sounding a bit fake, but with some tweaking, you should be able to make it work.
Find out about Harmonica by Sonivox Singles here: Pluginboutique, Best Service.
DSK Harmonica (Free)
Now, this harmonica plugin does by no means sound realistic…
It doesn't sound too bad, to be honest, but you can definitely tell that it's not a real harmonica, plus it doesn't feature too much customizability.
Still, since there aren't too many free harmonica plugins out there, it's really nice to have!
If you don't want to spend anything on a premium harmonica plugin, then absolutely try this one.
Plus, even though it doesn't sound exactly like the real thing, the type of sounds it produces can still be used for a variety of applications.
Find out more about the DSK Harmonica here.
Related Articles:
Best Guitar VST & Amp Simulators
In this section, I will be listing Guitar Instrument VSTs as well as amp simulation software, starting with my absolute favorite guitar amp sim:
Best Amp Simulation Software in terms of Cost-Efficiency!
Bias FX 2 and Bias AMP 2 are two great all-rounder guitar VST plugins. BIAS FX II works as a regular amp simulation suite where you have tons of amps, cabinets, and effects to choose from, whereas BIAS AMP II is a dedicated amp tweaking software.
In fact, I think that BIAS AMP 2 is the best Amp simulation VST plugin currently available considering the price, and I've never used an Amp sim that gives your so much granular control over every single parameter inside the amp.
Not only that but they also offer a demo version of both BIAS FX and BIAS AMP 2 which should help you decide whether or not you like them.
It's worth noting, however, that while BIAS FX does come with stompboxes and other features, BIAS AMP doesn't since it's strictly designed to let you tweak the amp itself as in-depth as possible.
Luckily, the amps you create in BIAS AMP can be loaded onto BIAS FX, giving you the best of both worlds.
What are its Strengths; BIAS FX is a great all-rounder and BIAS AMP II is the best dedicated amp simulation and amp tweaking software out there.
Easiest Amp Sim to get a good sound with!
Amplitube is the original amp sim that has been around for over a decade now.
IK Multimedia claims that Amplitube 5 has a "Hyper-Realistic Tone", which is pretty accurate since it really does sound quite realistic.
While I don't think that any guitar amp emulation software is quite capable of sounding EXACTLY like the real thing, at least not yet, the differences are barely noticeable (maybe some fizz in the higher end, but this is standard in most amp sims).
Amplitube 5 features a total of 9 amplifiers, 10 cabinets, and a set of 29 vintage and modern speaker models, and you can switch them all around however you like.
Additionally, you get 10 different stompboxes with it, as well as 4 microphones, 2 rack effects units, and two tuners.
You can also mic up the cabinet with up to 2 microphones and move them around in a 3D space to give you even more control over your tone.
All of this is huge since you can seriously tailor the tone in a very specific way.
What's even more impressive about this plugin is that it features an integrated 8-Track recorder/DAW that you can use in standalone mode.
Each track features standard treble, mid and bass eq, pan control, level, mute, solo, and record enable functions.
Lastly, IK Multimedia was kind enough to include some presets which are simply complete rigs that already sound pretty good (some tweaking here and there might be recommended).
The great thing about Amplitube 5 is that if you want more effects, Amps, etc. you can purchase those through their "Custom Shop". There are loads of them; from Fender, Orange, to Mesa Boogie, and more… You can even get more presets if you like.
What are its Strengths; Great all-rounder.
Electric Guitar Simulation (Virtual instrument)
Shreddage 3 is a virtual guitar emulation software that sounds absolutely phenomenal and that is capable of emulation various guitar models and even a bass right in the box.
It sounds incredibly close to the real thing, especially if you take your time to tweak everything.
Shreddage 3 can do anything from crispy clean sounds to heavy rock tones, arpeggios, strumming, and even amazing lead solos with vibrato, bends, hammer-ons, pull-offs, and more…
What are its Strengths; Excellent electric guitar emulation (Clean, crunch, high-gain, solos, and more).
Ample Guitar M Lite II (Free)
The best free acoustic guitar simulation VST.
Ample Guitar M Lite II is a free acoustic guitar simulation, or virtual instrument, software that has a very realistic feel to it, even when compared to more expensive pieces of software and it's by far my favorite acoustic guitar VST.
It sounds absolutely fantastic, while also giving you the option to add some effects. You can even double the guitar with the simple press of a button, which will add width and body to the sound.
You can simply download some MIDI files and play them using Guitar M Lite II, and while you may need to tweak a couple settings to get it to sound more realistic, it's definitely far easier to achieve than with most other acoustic guitar simulation software.
I think that everyone should download it. Electric guitar plugins are extremely common, but not acoustic ones and like I said, they tend to sound terrible.
Check it out here: Ample Guitar M Lite.
By the way, you can also download a free bass simulation plugin on their site as well which sounds terrific, make sure to try it out as well.
It's also worth Acou6tics, a premium Guitar Simulation VST, that definitely outperforms Ample Guitar M Lite in every aspect, however, it's not free. Still, if you need the most realistic acoustic guitar sound, check out Acou6tics.
Shreddage Stratus (Free)
Best Stratocaster simulation VST (excellent for metal)!
Shreddage stratus is a simulation of a Fender Stratocaster that you can get for completely free! As far as the sound quality goes, it's ultra-realistic and if you know how to use this kind of software properly, you should be able to create some very real-like guitar tracks with it.
It's not the simplest VST to learn since it's got so many different parameters you can adjust, such as instant multitracking which lets you double the guitars and pans them right and left for a thicker sound, as well as bite, global offset (cuts off some of the attack), and more.
One fantastic feature is the "Shred" settings under the performance tab which let you adjust how much of the pick's sound you want to hear, and this is really useful when creating a sweeping arpeggio lick where the picking sounds aren't as evident as when you're alternate picking.
Listen to it here;
If you're looking for a realistic Stratocaster sound, then make sure to grab this awesome freebie.
Check it out here: Shreddage Stratus.
Guitar Rig 6 Player (Free)
Amp Simulation Suite with one amp and multiple effects!
The newly released version of Guitar Rig (Guitar Rig 6) comes with a whole new-looking user interface as well as some cool improvements over the previous Guitar Rig 5 and of course, there's a stripped down version of this software for you to try out for free that lasts forever, it's not a free 14-day trial or anything!
Guitar Rig 6 Player is the free version of Guitar Rig 6 Pro that comes with a lot less features, such as amps, cabinets, pedals, and other effects, but it's free and you can use it indefinitely without any restrictions.
I'd still highly recommend giving Guitar Rig 6 Pro a try since it's a monster of an Amp Suite VST that offers loads of amps, cabinets, stompboxes, and more.
It includes a British-style tube amp with a matched cabinet, 13 effects, such as Delay, Reverb, Distortion, EQ, and more, as well as 50 presets.
Guitar Rig features a drag-and-drop interface which makes this amp simulator ideal for beginners since it's so easy to use!
Guitar Rig 6 Clean Guitar:
Check it out here: Guitar Rig 6 Player.
Related Articles:
Wrapping up
I know this list is huge, but you should be able to find at least a couple of useful plugins on here, be it free ones or even premium ones.
If you have any plugin recommendations that you would like me to consider for this article, don't hesitate to leave a comment below!
Have a great day!