Last Updated on February 13, 2023.
Are you into creating Metal music but lack the hardware and space required to execute the drums properly?
In 2022, the world of music production is migrating and minimalizing from carrying vast amounts of hardware and instruments into computers with software where producers can take the whole show with them on the go.
When it comes to playing the drums, software companies are following the market and creating wonderful virtual instruments that allow users to create drums that compete with studio-recorded drummers.
Addictive Drums
Great visual display and one of the best all-around drum VSTs that offers excellent value.
BFD 3
Most realistic-sounding metal Drum VST that doesn't require a lot of effort. Includes 7 kits.
Superior Drummer 3
Most in-depth Drum VST in existence. Hard to use and time-consuming but allows for extensive twaking.
In this article, we'll go over the best drum VSTs for metal productions in 2022.
My top three favorite drum VSTs each have their own strengths and weaknesses, but overall the best metal drum VST plugin in 2022 is Superior Drummer 3.
It simply does everything at a high level: ease of use, sound, tweakability, and humanity. I think the best-sounding metal drum plugin, however, is BFD3 Virtual Drumkit, and the best overall value VST is XLN Addictive Drums 2.
What to look for in a Drum VST for Metal productions
Ease of use: Because metal drums are one of the most complex genres to create drum parts for, it is important that the plugin is easy to use so that you are not confused during the creative process.
Tweakability: Drum performances are some of the most nuanced and detailed parts of a song, especially for metal productions. Tweakability with a drum VST should allow the user to dial in the right panning, velocity, and articulation of the drums but also give the user advanced features that enhance their workflow.
Sound: The sound of the drum VST will compose of both the quality of recording and the quality of drum samples. While we can always import our own sound libraries into a drum VST, purchasing one that comes with a quality sound library is important if we want to keep a standard of quality in our productions.
Humanity: One of the most common problems that virtual drummers face is making their drums sound human. Anybody can go in and punch in a basic drum pattern, but mimicking the nuances of human performance and breathing the necessary life that a track needs is crucial to getting a great-sounding performance.
List of the Best Drum VST Plugins & Libraries for Metal
Alright, I'm going to kick things off with the plugin that I personally use quite often, EZDrummer 3, but make sure to check out all of them since you may prefer one over the other.
Simplest Drum VST Plugin on the market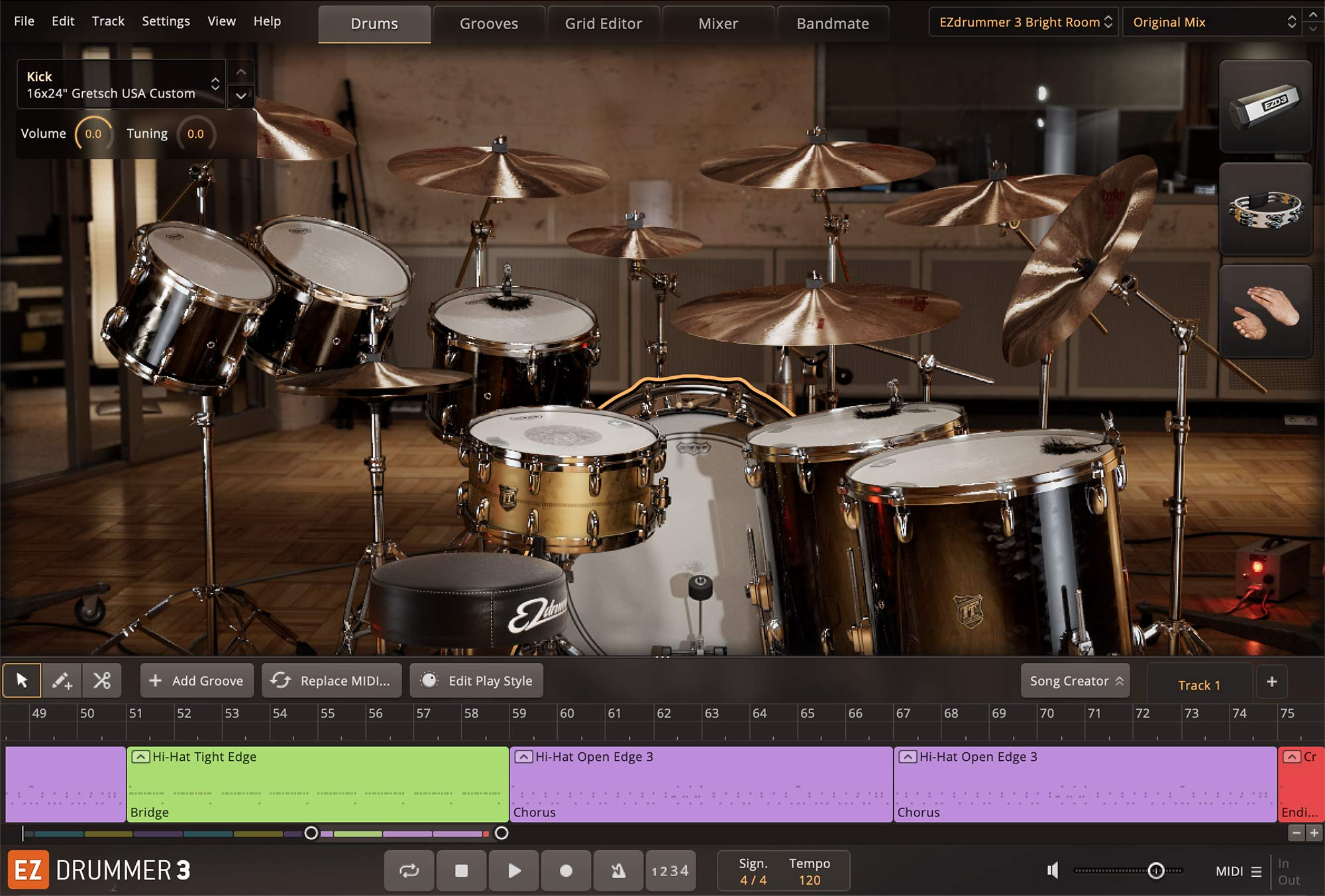 Price: $180
EZDrummer 3 is a drum VST that offers ease of use, a great graphical user interface, and a quick workflow. It comes with a resizable window display, a brand new core library with a 15 GB drum library, 7 different drum kits and 3 different rooms, along with 2100 MIDI files of drum grooves. Overall, EZDrummer 3 is not your in-depth, advanced, and complex drum machine that covers every little nuance, but it offers ease of use and simplicity.
Workflow: EZDrummer 3 has four core tabs at the top: Drums, Grooves, Grid Editor, and Mixer. You first get to choose which drums you want, then you can pick from 2100 MIDI files in the groove pool in a variety of different styles.
Next, writing the drums is a made a lot easier than a typical DAW with the grid editor because you can do it all on one screen at the same time. It's also got a mixer tab with 21 mixer channels to choose from; however, you can't add any effects or use send and return tracks.
The most striking and intriguing feature of EZDrummer 3 is the Bandmate section, where you can drag in an audio or MIDI file and have EZDrummer create a drum part and select the right groove based on the audio or MIDI file attached.
Uses: You can very easily do all of your metal drums with this VST. One of the most interesting uses is the ability to simply play some metal guitar riffs, MIDI or audio, and feed that into the Bandmate feature to save you the time of having to go in and manually find the right midi grooves.
Advanced playstyle editing in the grooves tab also allows users to really deep-dive into what's happening with the drum hits.
Additionally, if you want human-sounding metal drum tracks, there are lots of humanization features like automatic adjustment of velocity and micro timing and automatic articulation variability to give you that human feel.
Get Ezdrummer 3 here: BestService, Sweetwater.
Best Overall Drum VST plugin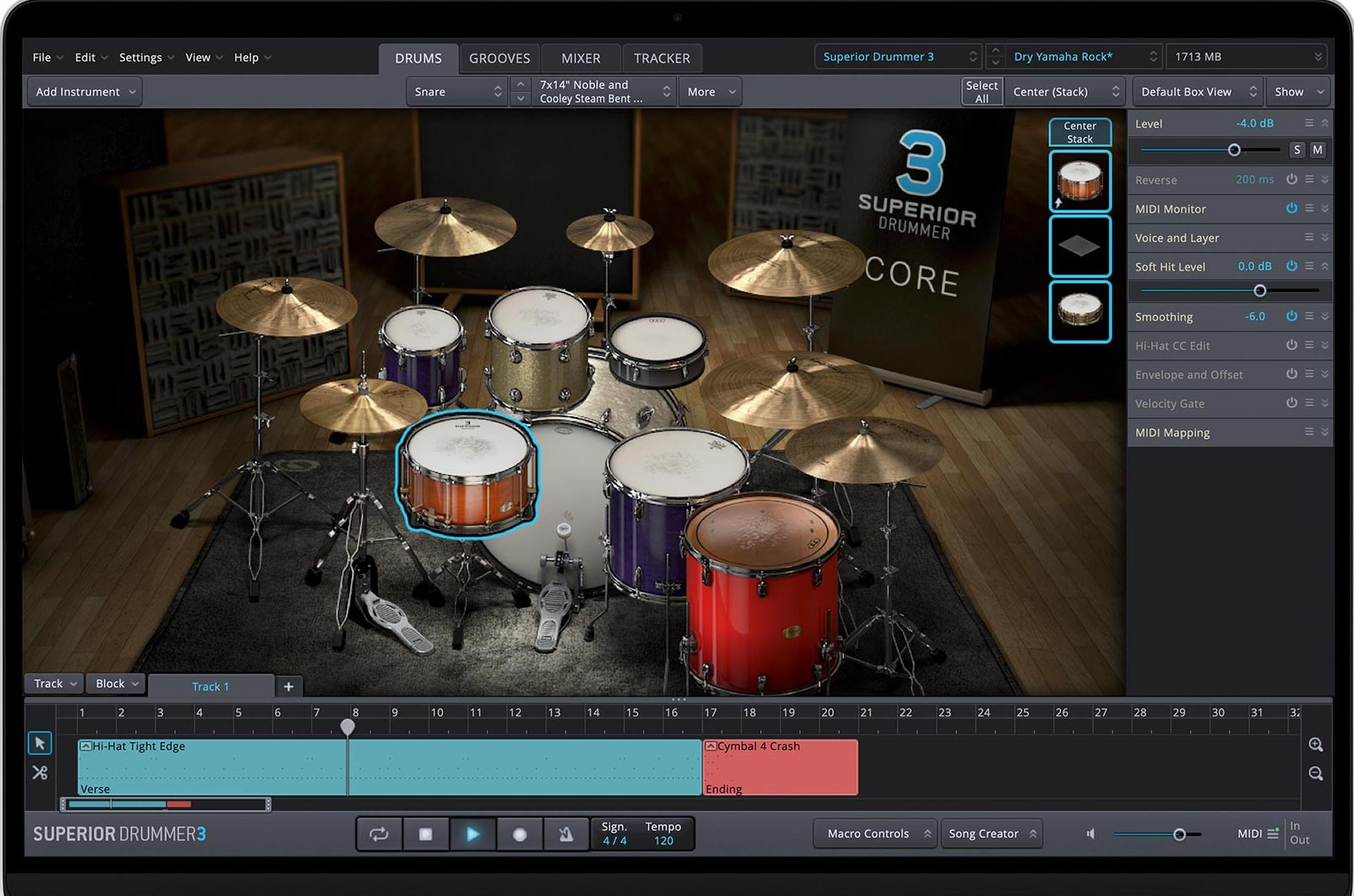 Price: $399
Superior Drummer 3 also has an interface with the drum kit and room graphically displayed in the center and four main tabs at the top.
The four main tabs are your drums, grooves, mixer, and tracker. But, unlike EZDrummer 3, Superior Drummer 3 comes with over a dozen plugins and many capabilities in the mixer similar to a DAW.
When choosing between Superior drummer and EZ Drummer 3, ask yourself: do you want a bigger library with more control, or do you want an easier workflow and quicker usability? Superior Drummer is the former.
Workflow: The workflow overall is pretty standard when it comes to drum VSTS. On the mixer channel, you've got internal mixer buses, so you can do parallel routing, subrouting, etc.
The kit is super easy to use and change parts with. You just have to click on the drum to hear its sound, and if you want to replace it you can choose from the selections on the top of the interface. You have your basic play, pause, tempo, and record at the bottom.
You can open and save your own presets as well as create hotkeys for some of the routine functions that you use with the plugin to speed up your workflow.
The tracker tab is great if you have already recorded a drum sound; and you've got your individual tracks because you can drag them into Superior Drummer 3, which will convert it into MIDI information and play almost the exact same drums in Superior Drummer or replace the parts with some of Superior Drummer's samples.
Overall, the workflow is not as quick as some of the simpler plugins on this list, but the reason is because of the amazing tweakability and versatility that this plugin has to offer to really sculpt and create in-depth drum tracks.
Uses: You can create drum stacks, so you can have multiple drums on the same MIDI notes or hit, kind of like stacking extra kicks or snares on top of each other, or an electronic drum sound on a kick, for example.
You can actually use mixer effects with their great and extensive plugin list, so you won't necessarily need to use a DAWs mixer unless you prefer it.
The "Song Creator" feature allows you to drag midi files and build an entire song for you including intro, verse, chorus, bridge, etc.
Get Superior Drummer 3 here: BestService, Sweetwater.
Best user interface of any drum VST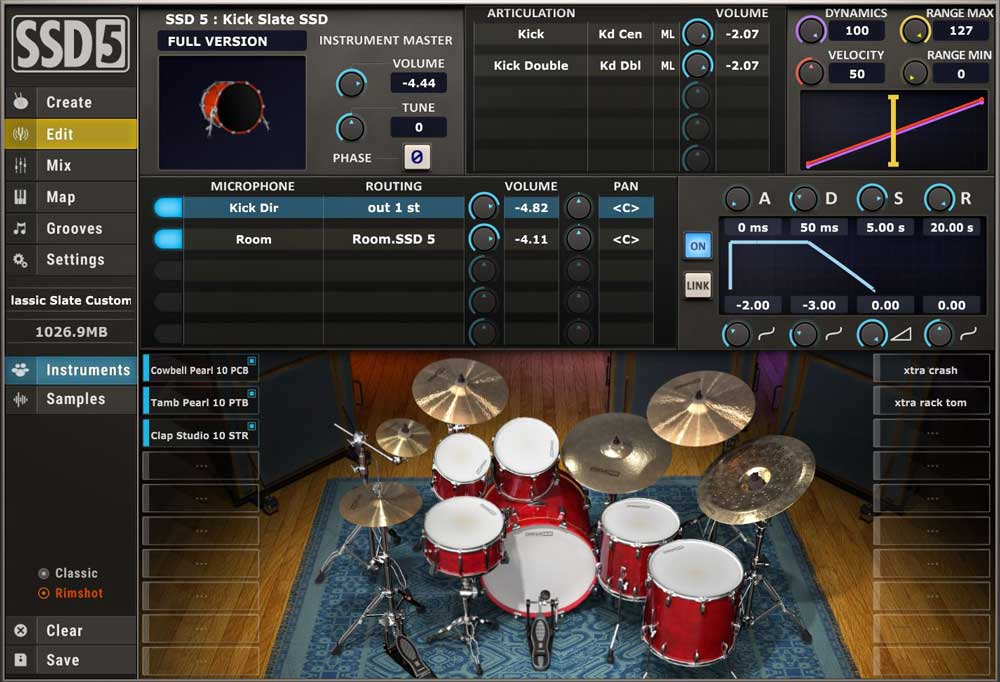 Price: $120
Steven Slate Drums won't disappoint you if you are looking for punchy, in-your-face drums and a simple workflow. The workflow is so simple that Steven describes it as "so easy that you don't even need a manual."
And this rings true, because the user interface is intuitive and basic, which will annoy those who are looking to dive into advanced features and tweak things in great detail but work great for those looking to create quality drums fast.
Overall, you can get about 70 percent of what you can get out of Superior Drummer 3 with Steven Slate Drums 5, but the workflow is much faster and easier.
Workflow: Steven Slate Drums in my opinion has the best user interface out of all the drum VSTs on this list.
While it has a mixer, drum choices, and a large groove pool just like the other VSTs on this list, Steven Slate Drummer 5 takes a different approach to drum creation. In 32 slots, the drum kit is selected in the instruments tab where each drum lights up each time it is played.
The mixer is extremely basic and not comparable in quality to Superior Drummer 3, but will work just fine if you prefer to mix in your DAW.
Uses: If you are looking for in-your-face, punchy drum sounds that fit in almost every genre and work great for metal drums, then Steven Slate Drums will be useful for you.
You don't get that many samples relative to the other plugins here, but for the hobbyist, I think that Steven Slate Drums is excellent because of its ease of use and ability to jam with.
Get Steven Slate Drums 5 here: Sweetwater, BestService.
Great visual display and one of the best all-around drum VSTs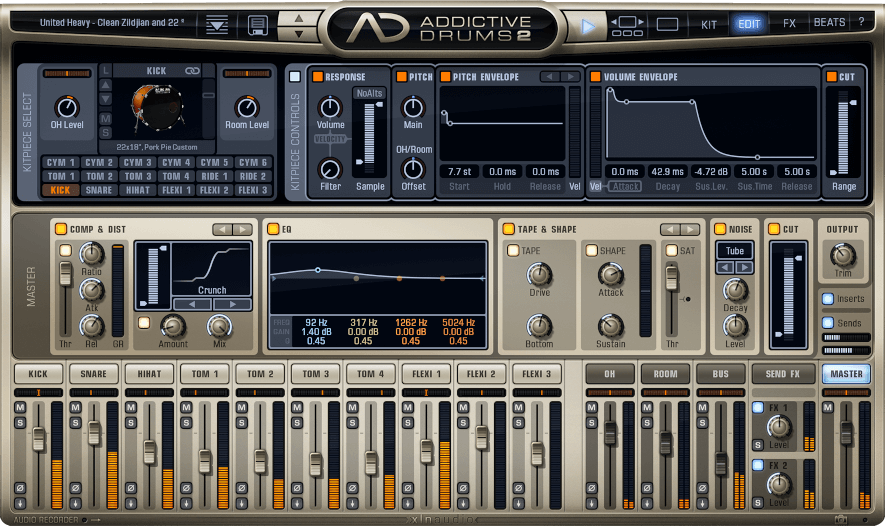 Price: $159
Released eight years ago, XLN Audio Addictive Drums 2 is still one of the most popular sample-based virtual drum plugins on the market. With an awesome and aesthetically pleasing user interface and simple workflow, it's easy to see why so many producers keep this VST in their toolkit.
Workflow: You can use the method that's best for you with XLN Addictive Drums 2. You can drag a beat from the beats page and drop it into your DAWs sequencer, record live using an electronic drum kit, MIDI keyboard, or electric pad control, or draw your MIDI notes by hand.
The organization and workflow of XLN Addictive Drums 2 in my opinion is superior to the rest because of its ease of use, quickness, visual display, and simplicity.
Uses: XLN Addictive Drums 2 works great if you have some sort of MIDI device such as a keyboard or electronic drum kit because you can utilize the many built-in features such as key-mapping presets and advanced velocity functionality that the plugin comes with.
However, it can be used in any metal drum production case imaginable because of its versatility and the magnitude of features that are offered inside the plugin.
The plugin allows you to add insert effects to your individual drum sounds so that you can fine-tune each one in terms of EQ, saturation, compression, noise, and ADSR.
Get Addictive Drums 2 here: Pluginboutique,
You can also get the Metal Expansion pack for Addictive Drums 2 here:
Best-sounding drum samples!
Price: $150
BFD3 is known for excellent sounding drums, excellent recording quality, and incredible tweakability. They hired Andrew Scheps to control the mixing and recording, used great-sounding drums, and recorded in great studios to create the highest quality sounds they could think of. Overall, while the user interface isn't the most user-friendly, BFD3 is laden with features that allow users to go extremely in-depth with their drum sounds.
Workflow: On the lefthand side, you have everything you can load: presets, kits, drums, and grooves. Once you have selected your kit, they will appear in the middle, where the user interface is more schematic than it is aesthetic.
It's very quick to try different drum pieces to get the sound you are looking for. Every channel in the mixer can have up to six insert effects, there's a send system with auxiliary, send, and return channels, as well as a little small triangle in each channel that allows you to easily change the microphone to access different ways that each sound was recorded.
Uses: If you are looking for a great overall analog sound, then the BFD3 Virtual Drumkit may be a great option for you. It was recorded using some of the most sought-after gear, drummers, and engineers in the world.
Because of its in-depth mixing console, it's very useful if you want an all-in-one drum plugin where you can mix everything in the plugin itself.
For those that are serious about their drum sounds, BFD3 is great because it allows you to fine-tune your articulations and note details so that it sounds as close as possible to a real performance.
Get BFD3 Virtual Drumkit here: ADSR Sounds, Pluginboutique, BestService.
Conclusion
Virtual Drum VSTs have come a long way in the past decade. Advanced features such as automatic MIDI grooves and variability of articulations make these plugins competitive with real-life human drummers!
When considering the best drum VST plugin for metal productions, Superior Drummer 3 lives up to its name by providing a superior overall experience and performance for metal music producers. However, the gap between all of these plugins is not very wide.
BFD3 has a better overall sound than Superior Drummer 3 and XLN Audio Addictive Drums in my opinion is a better overall value for the price.