Last updated on February 13th, 2023 at 02:34 am
Harp VST plugins are surprisingly popular in the world of virtual instruments and there are a lot of options on the market. Most of them come as Kontakt libraries, so basically, you can't get a free trial of them to test out.
Elysium Harp
Best-sounding harp currently available with a lot of in-depth sound tweaking options.
Swarm Harp
Swarm Harp combines 9 different harps and creates very unique and original sounds.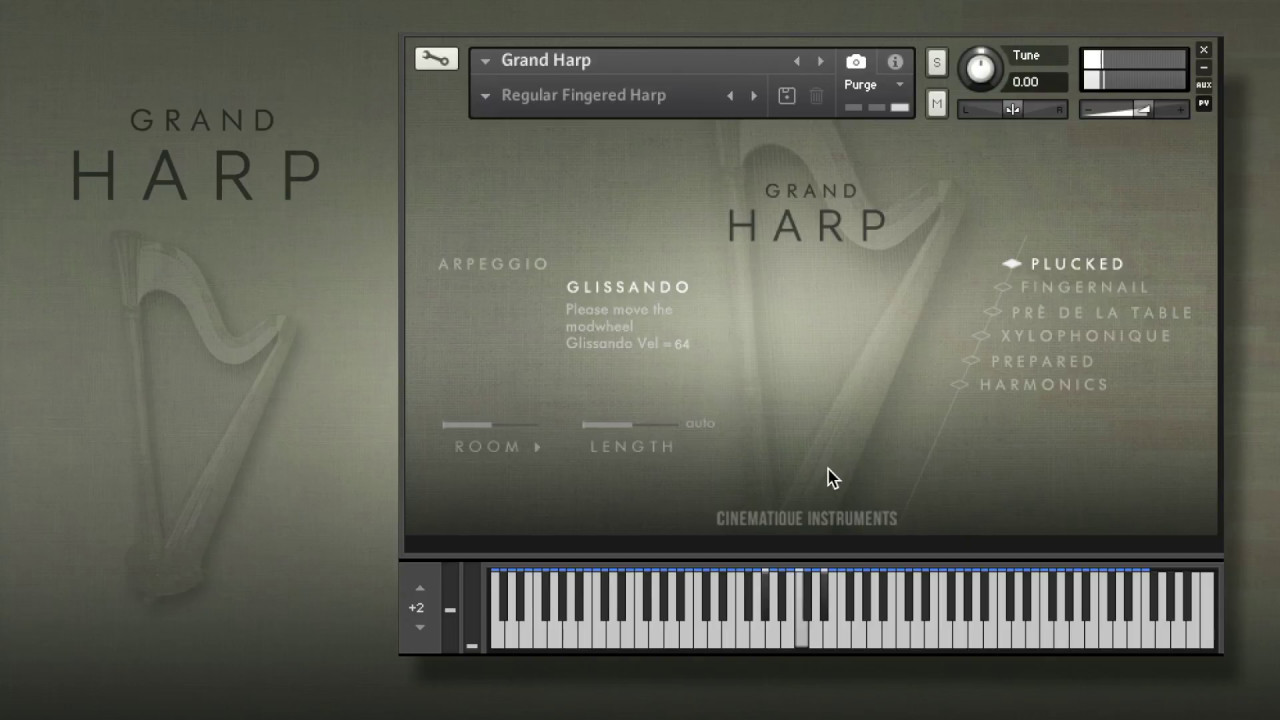 Grand Harp
Excellent harp plugin for classical music that won't overwhelm you with dozens of controls.
Luckily, scouting is the next best thing. In this article, we'll scout the top-rated harp VSTs on the market and include some free harp VSTs at the bottom as well.
What Harp VST Do I recommend The Most?
Every harp is different and the best one will depend on what kind of vibe you are going for: dreamy, classical, orchestral, etc.
But, my two overall favorites are Elysium Harp and Harp Swarm. Elysium Harp will get you that quality individual harp sound with advanced controls and versatility, while Harp Swarm is unlike anything I've ever heard before and sounds awesome; combining nine harps at once in a sea of sound.
List of the Best Harp VST Plugins & Libraries
In this section, I will be listing the plugins in order of best to "worst" (none of them are actually bad), and at the end of the post, you will be able to find some additional freeware harp VSTs.
Best epic-sounding and most beautiful harp
Elysium Harp is a virtual instrument library for Kontakt modeled after a 47-string grand concert pedal harp. SoundIron, the creator, recorded the massive Lyon & Healy bronze concert harp with lots of detail and gave it advanced controls.
User Interface: The user interface only has six main controls: swell, attack, body, release, offset, and vibrate which keep it simple and versatile.
Features
The plugin gives you access to three stereo mic positions, advanced real-time gliss, arpeggiator sequencers, instant pedal presets, and a full FX rack.
Elysium Harp is a great harp plugin for those looking to experiment heavily with the sound of their harp. You can really fine-tune and get a wide range of sounds with it. And, if you're interested in a more epic and beautiful sound, say, for a fantasy video game or story, this harp may be your best choice.
Get Elysium Harp here: Pluginboutique, Best Service.
2. Harp Swarm
Most interesting harp vst plugin
Harp Swarm is part of Spitfire Audio's Swarm Series that groups together nine beautiful harps at the same time, producing a huge and heavily staccato'ed sound. With Harp Swarm, you'll have to simply hear the sound via their demos. It cannot be explained 10% as well as it can be heard, but I promise it will be unlike anything you've heard before.
User Interface: Harp Swarm comes with many advanced controls in three different panels: the overview panel, general controls panel, and the ostinatum panel, which allows you to add notes to a pattern sequencer like an arpeggiator on a synthesizer.
Features:
Harp Swarm allows you to use 9 harps; 6 on the main scoring stage and 3 in the galleries recorded in unison.
A wide variety of epic glissandi including release triggers and different speed options.
Fast and slow tremolos with speed control and dynamic crossfading
Harp Swarm is excellent for cinematic pieces where you want to convey otherworldly emotions such as mystery, horror, and science fiction. But the sound is so unique and interesting that it can be used for just about anything.
Get Harp Swarm here: Spitfire.
Best classical music harp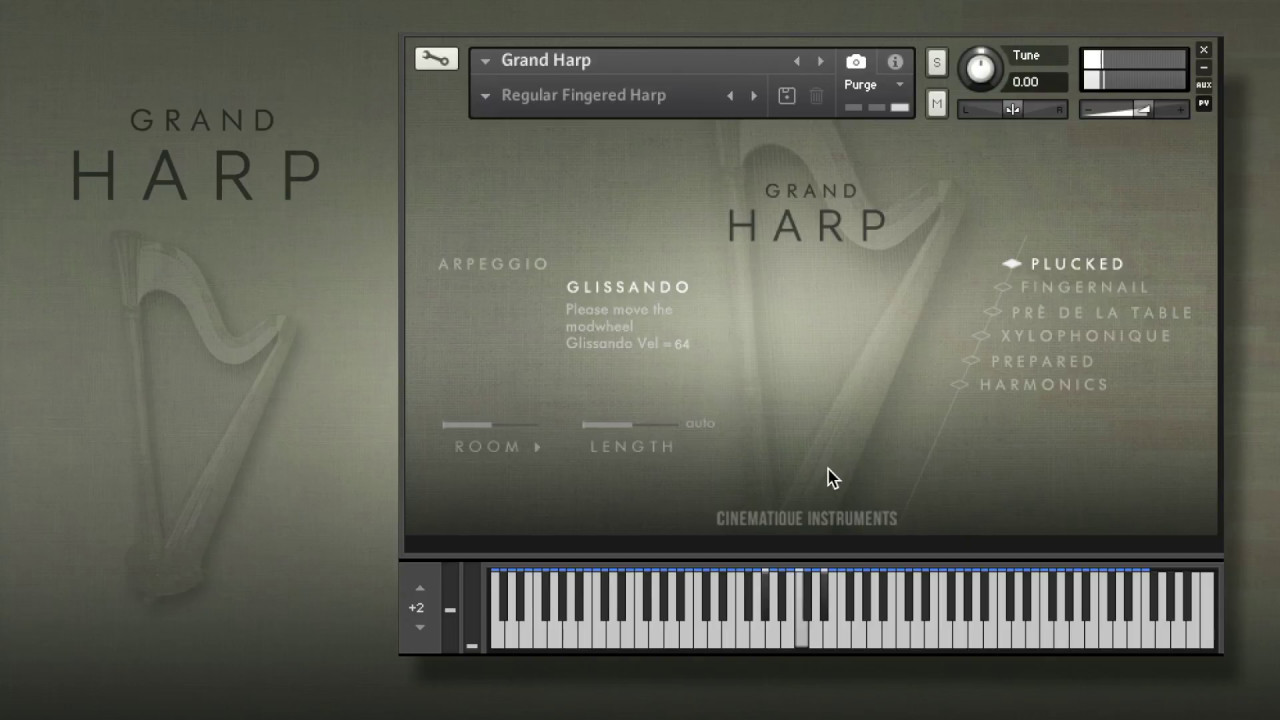 The Grand Harp is a large and modern-sounding harp designed mainly for classical music. The Grand Harp is similar to old ancient harps such as a Celtic Nylon Harp.
User Interface: The user interface is a relatively minimalistic Kontakt display with basic ADSR controls, six different plucking styles, and a "church" reverb.
Features
Six articulations, a 16-step arpeggio, and a glissando mode.
Grand Harp is an excellent choice for those interested in creating classical music with amazing control over their articulations but without getting overwhelmed by a large number of controls.
Get Grand Harp here: Pluginboutique, Best Service.
The best at changing perspectives and moving mic positions
Cineharps is a Native Instruments Kontakt library that brings a magical element of sound asking for a cinematic scene or dream sequence. It's meticulously sampled in the MGM Scoring Stage at Sony Pictures in L.A. and is mainly recorded as a solo harp VST.
User Interface: The user interface has a playfully modern aesthetic with a number of different presets, mic positions, FX, and cool in-depth settings hidden inside.
Features
A vast collection of harp samples
Lots of different mic positions
Perspective Mode gives you a slider that smoothly crossfades between the Close, Room, and Surround microphone perspectives
Gliss Mode transposes all of the white keys based on the selected notes and pedal diagram.
Overall, Cineharps is best suited for composers working in the more mythical or fantasy genres.
Get Cineharps here: Best Service, Native Instruments.
Great angelic sounding harp Vst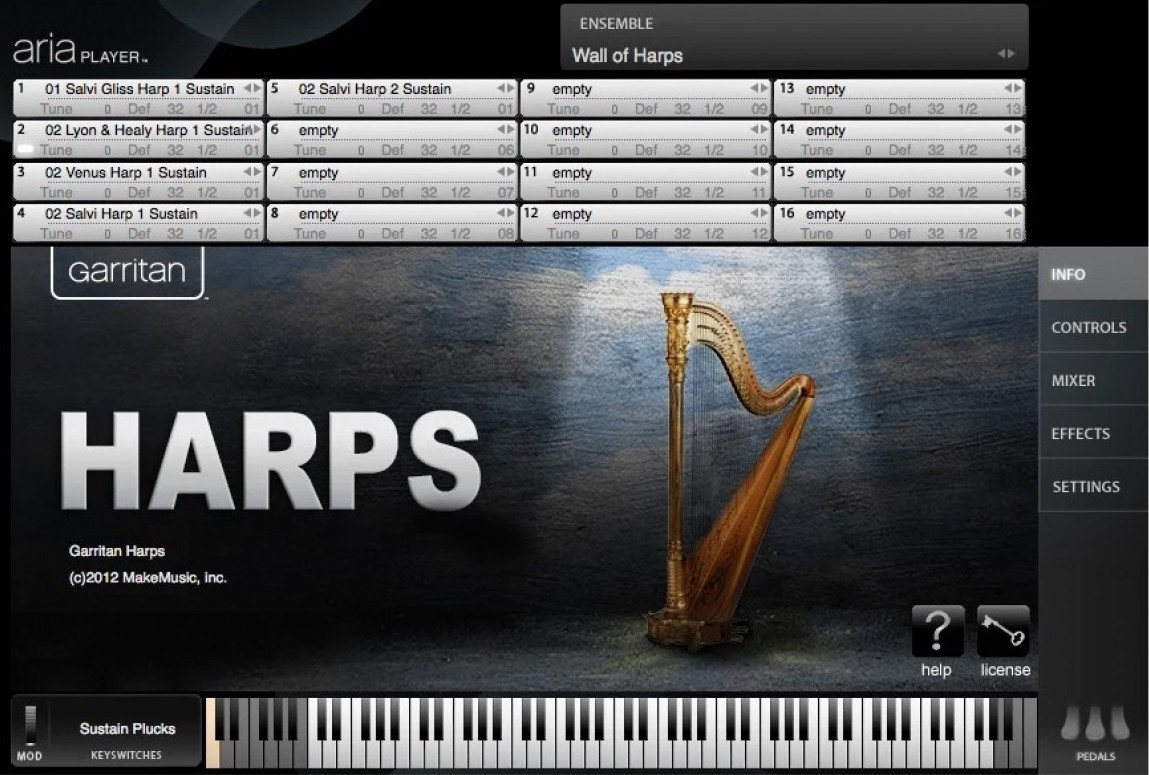 Garritan Harps is a VST library that has meticulously sampled harps from three different manufacturers with natural decay. With this plugin, you get a traditional angelic-sounding harp, with glisses that play easily by running a finger up and down the keyboard, and a full range of harp articulations.
User Interface: The user interface is relatively barren of controls and parameters other than some special effects built-in, but it offers up to 16 slots to add harps.
Features:
Includes a variety of harps: Salvi Pedal, Venus Concert Grand, and Lyon & Healy. Each of these harps have a few different versions, too.
Built-in keymapping allows for realistic glissandi
Special effects that include harmonics, damping, violin bow, and Pres de la table
Minimal crosstalk between strings for a tighter sound
Integrates with the ARIA player
Garritan Harps is great if you want an angelic-sounding harp in a more peaceful setting. Its overall sound is more melancholic and sort of lonely.
Get Garritan Harps here: Sweetwater.
6. Hollywood Harp
The best Vst for orchestral music production
The Hollywood Harp comes inside the EastWest Hollywood Solo Instruments plugin bundle. All of the instruments inside were recorded at EastWest Studios with the same microphones and positions.
User Interface: The user interface allows you to finely shape the ADSR, velocity, panning, effects, and microphone position and looks very similar to a modern synthesizer VST.
Features
Hollywood Harp gives you the most capabilities out of any plugin on this list because of its synchronization with the Hollywood Solo Instruments bundle. It allows you to use multiple instances of harps and place them as you would place an orchestra. With control over everything from effects, to ADSR, to microphone position, you can get really precise with the details.
If you are looking to create realistic orchestral sounds, then Hollywood Harp may be your best bet.
Get Hollywood Harp here: Sounds Online.
Simplest User Interface
Concert Harp is a Kontakt library that was recorded in a warm concert hall and includes a wide variety of single-note techniques and awesome samples of glissando scales and effects.
User Interface: The user interface is definitely the most basic out of all the plugins on this list with simple ADSR and reverb on the right, and articulations and glissando scales on the left, with the option to change the mic position from close to stage.
Features:
Single note harp range: C0 – G6 with C3 being middle C.
Glissando Scales: Major, minor, whole-tone, Octactonic, Bbsus4, Pentanic in E, Diminished
Two different microphone sets
Glissando scales performed downwards, upwards, up-downwards, and in various speeds/dynamics
Pitch bend effects
The concert harp is a solid plugin for musicians on a budget who are not interested in learning a new plugin. It has the most basic user interface on this list which is easy to learn, but I came away wishing the sound was a little less digital.
Get Concert Harp here: Best Service.
Best Free Harp VST Plugins
If none of the previously-mentioned plugins tickle your fancy, or if you find them to be a bit too expensive, don't fret! Here are a couple of additional freeware harp VSTs that you can try!
Performance Samples: River Harp

River Harp is definitely the best free harp VST that can achieve the "dream sequence" sound. This plugin (Kontakt Library) offers a different perspective than most harp plugins in that the sounds are not individually plucked strings, they are a combination of plucked strings that combine into textures and glissandi.
It sounds like a stereotypical, real harp. Performance Samples gives users the ability to record with a close mic and a far mic which makes this plugin a lot more versatile, but the way the harp is recorded doesn't help the timing/flow as they are not time-synced. Overall, this plugin is powerful and gives you big and interesting harp sounds.
Get River Harp here.
DSK Music: DSK World Stringz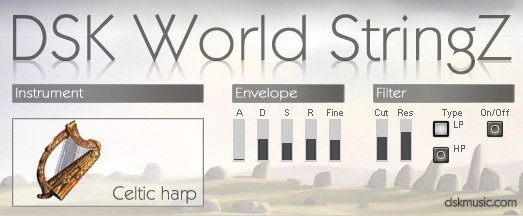 DSK World StringZ makes its name by having a capital Z at the end of it. No, but seriously, I've tried many DSK instrument plugins before and this one might be the best one I have tried. While it offers a total of eight world instruments (with one of them being a Celtic Harp), the Celtic harp stands out with its articulation being unique and "analog enough." It comes with basic settings like fine pitch, ADSR, filter cutoff, and resonance, as well as a high and low pass filter.
Get DSK World Strings here.
Additional Free Harps VSTs
Wrapping up
Nobody seemingly owns or uses a real-life harp these days, but everybody seems to be making harp VST plugins. Whether you need this particular stringed instrument because you are trying to create a heaven or dream sequence in a film, put together a full orchestra, or make a unique version of a pop or electronic song, we've compiled a list here of the best harps on the market to incorporate into your music, free and paid, in 2022.