Last updated on September 14th, 2022 at 08:34 am
Choosing the right digital audio workstation (DAW) is one of the biggest choices a music producer can make, as it influences how they're going to work and create music every time they sit down and produce.
If you produce electronic music and are looking to make the right choice of DAW to make music with, this article will go over your best options on the market.
Ableton Live
Ableton Live is the absolute best DAW for electronic music production that offers the simplest and most efficient workflow.
FL Studio
FL Studio is an easy-to-learn DAW that is mainly designed for Electronic music, Hip Hop, Rap, Trap, House, Trance, etc.
Logic Pro
Logic Pro is only available for Mac OS devices and is an excellent alternative to Ableton Live if you're a Mac user.
Now, let's get straight into the article!
What is a Digital Audio Workstation (DAW)?
A DAW or digital audio workstation is a computer application that allows users to create music. It acts as a digital creative workshop that allows musicians to edit, produce, mix, and master music. It provides users with almost every tool imaginable to get from start to finish in the creation of music.
Best DAWs For Electronic Music Production
Ableton Live 11
FL Studio
Logic Pro X
Ableton Live 11 is your best DAW for electronic music production in 2022. It stands out among its peers with a workflow that is smart and fast, which allows users to create music in an efficient manner.
However, Logic Pro X and FL Studio are both quality affordable options that many users enjoy and prefer over Ableton.
Best Overall DAW For Electronic Music Production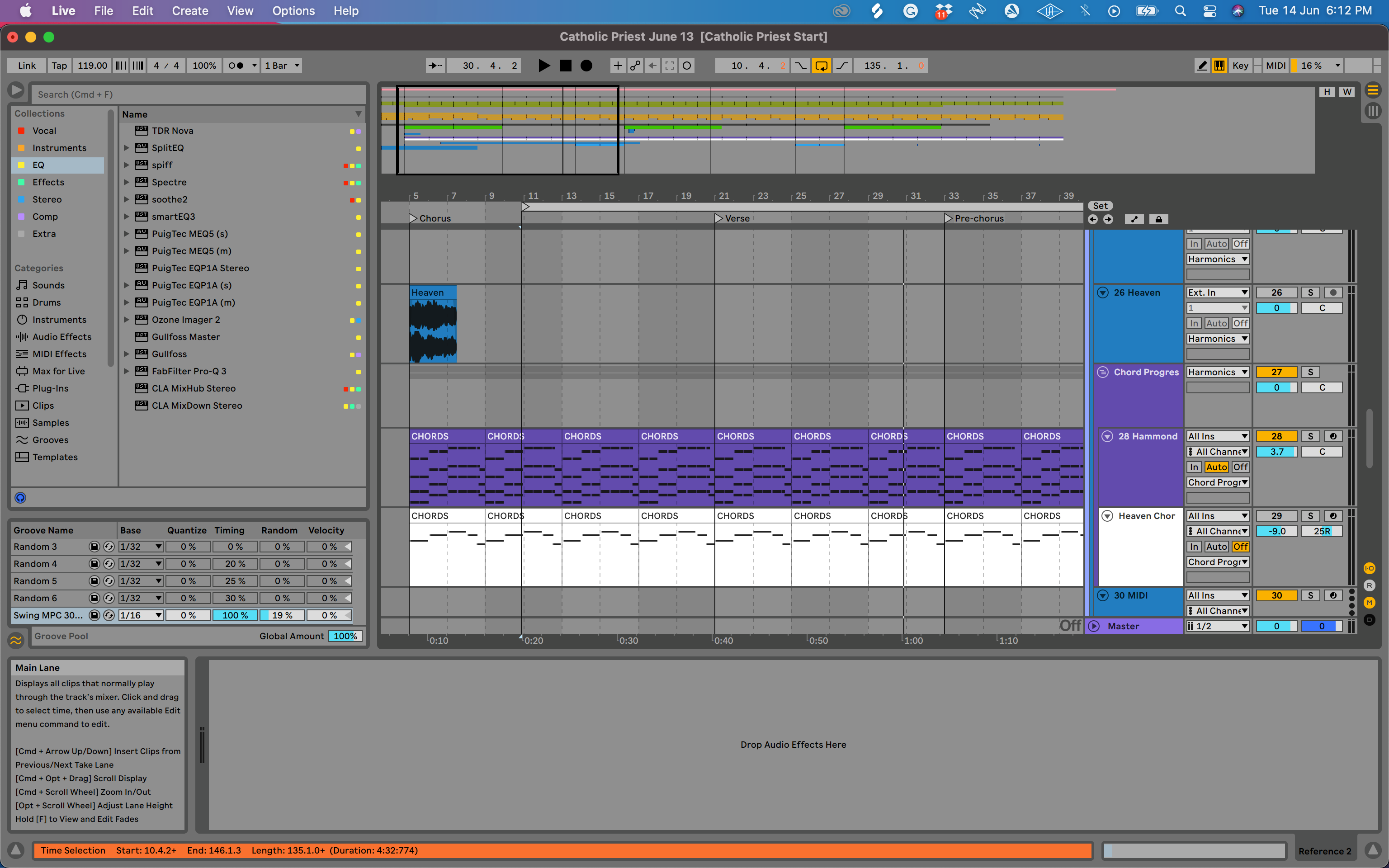 Ableton Live is a DAW that works for both macOS and Windows that was created initially as an instrument for music producers to play live shows with. First released on October 30th of 2001, the instrument grew into a full-fledged DAW over the years, facilitating every aspect of music production such as recording, composing, arranging, mixing, and mastering.
Features & Workflow
Ableton features all of your standard DAW functionality, such as tempo control, piano roll, files and plugin selection, tracks with plugin chains, etc., but the features that make Ableton unique are how these features work together and how they're organized.
Ableton's workflow, while not the most intuitive initially, is what makes the DAW stand out among its peers. First off, it offers two different views: the arrangement view and the session view.
Arrangement View
Ableton's arrangement view is the interface for creating music in your studio or bedroom. It features your audio and MIDI tracks on the right-hand side, along with the volume, panning, on and off functions, solo, record button, etc.
You can group tracks together and route them whichever way you choose, and add virtual instruments with effect chains at the bottom of the display. You can also add, delete, and edit tracks in the main arrangement window, manipulate these tracks, work with their piano rolls if they're MIDI tracks, and add custom automation.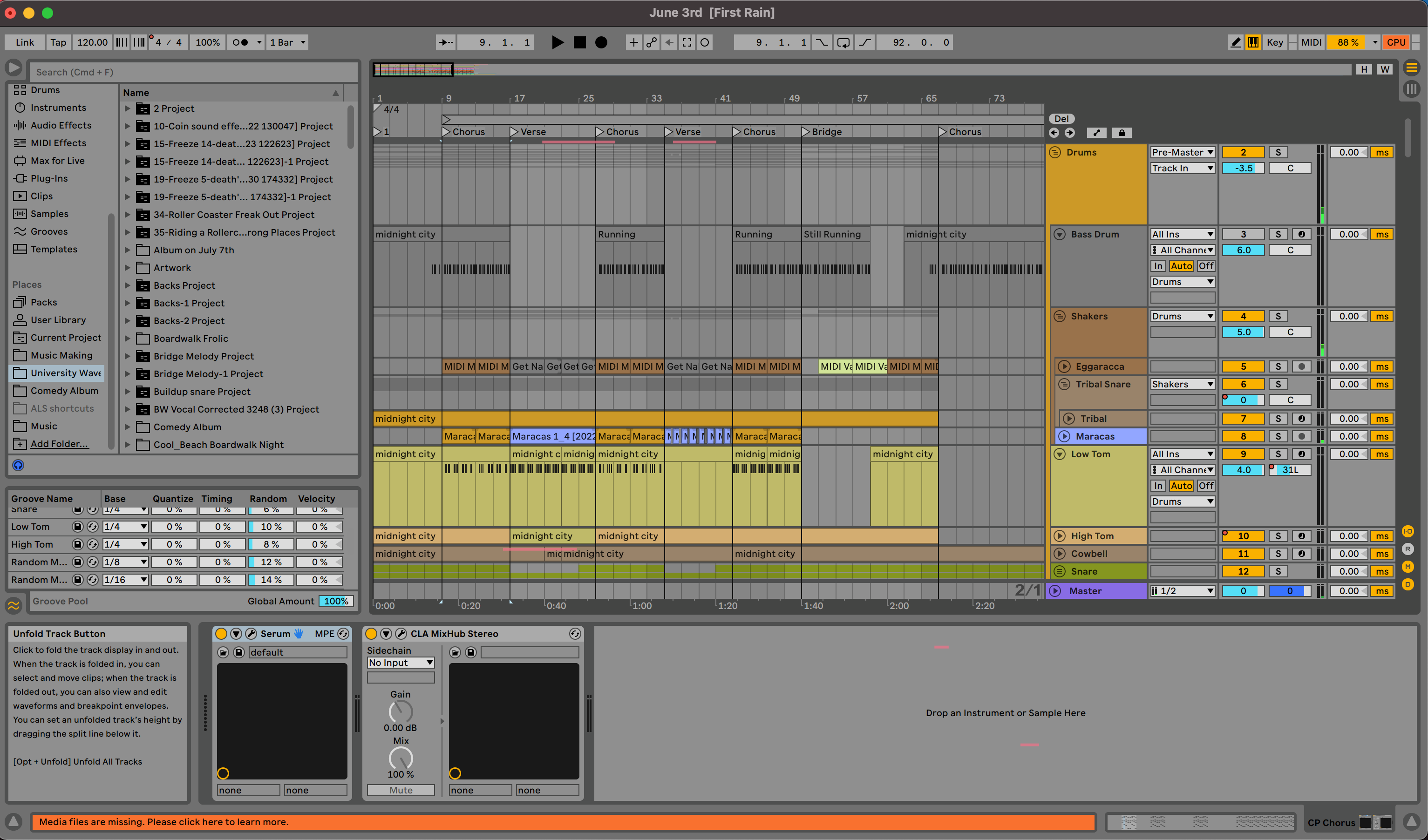 Session View
The session view is more geared for live performances, DJing, or jamming by yourself. The interface allows you to see all of your tracks in columns from left to right. You can control these tracks via an external MIDI device and really get into the groove of the performance aspect of your song.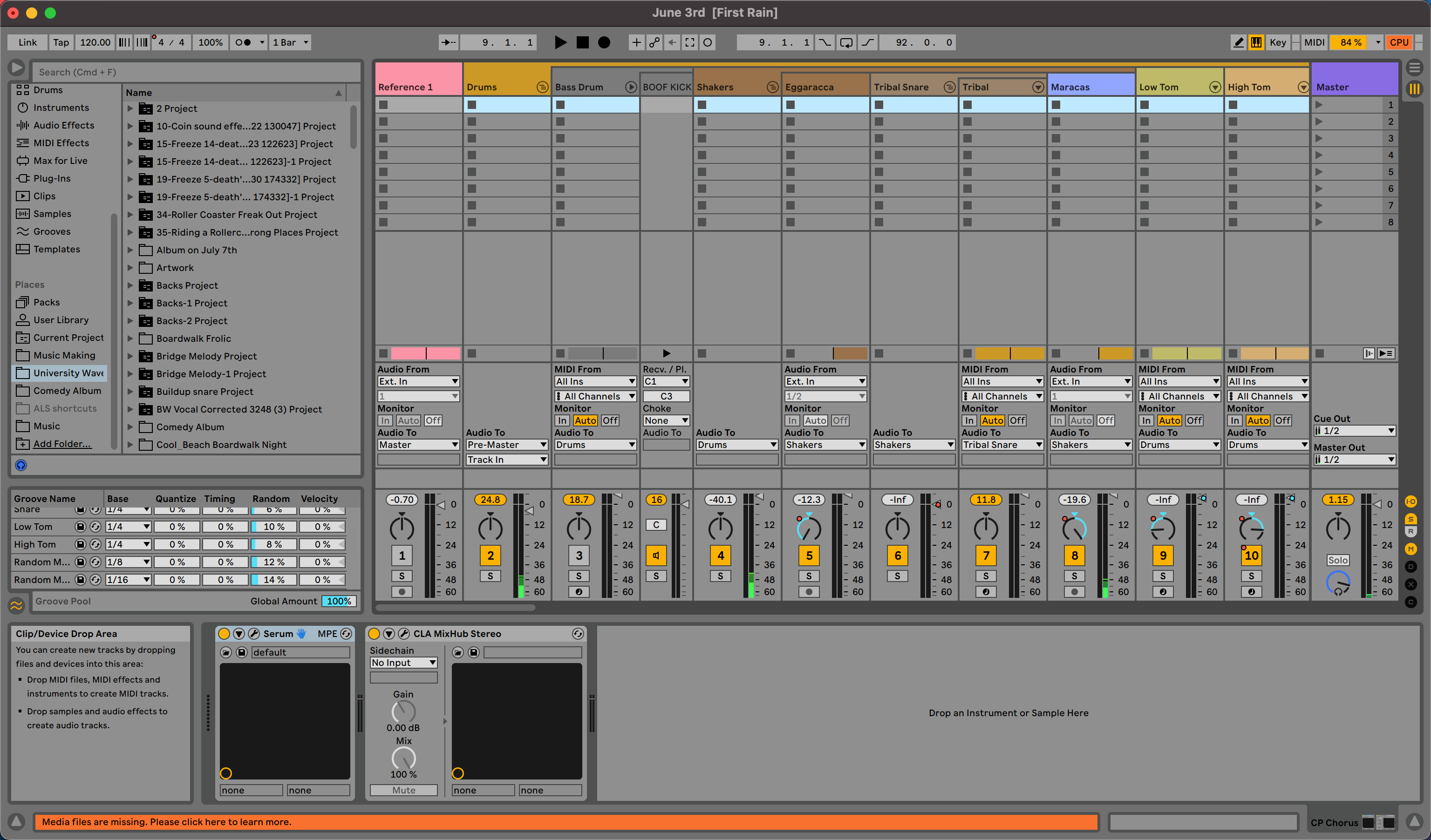 Price
Ableton Live comes in three different price categories for different tiers of software. They offer Ableton Live 11 Intro for $109 USD which is great for beginners looking to try out the software beyond the free trial.
The intro version allows only 16 audio and midi tracks and 2 send and return tracks. It also lacks some basic features like audio-slicing.
For $519 Ableton offers Live 11 Standard, which is suitable for everyday users from beginner to advanced.
For $859 Ableton offers Live 11 Suite, which allows users to use Max for Live, giving access to a wealth of user-created plugins that are generally pretty useful, as well as their full suite of stock instruments plugins and sounds.
When you buy Ableton Live, you get future minor upgrades at no cost. For example, if you buy Ableton Live 11, you get versions 11.2, 11.3, 11.4, etc. for free; however, when they release Ableton Live 12, there will be an upgrade fee.
Why Choose Ableton?
Ableton, while more expensive than most DAWs, stands out among the rest for electronic music production because of the amount of time and frustration the DAW saves its customers.
Their workflow is top-notch when it comes to music production in its design which allows producers to be more productive and spend less time worrying about technical issues or navigation. It is also the industry standard for live performance, as the session view dominates other DAWs with its ease of use on stage.
Who uses Ableton?
Ableton is used by Flume, Diplo, Deadmau5, Skrillex, Marshmello, DJ Snake, The Chainsmokers, and many more.
You can get Ableton Live 11 here:
Easiest DAW To Learn With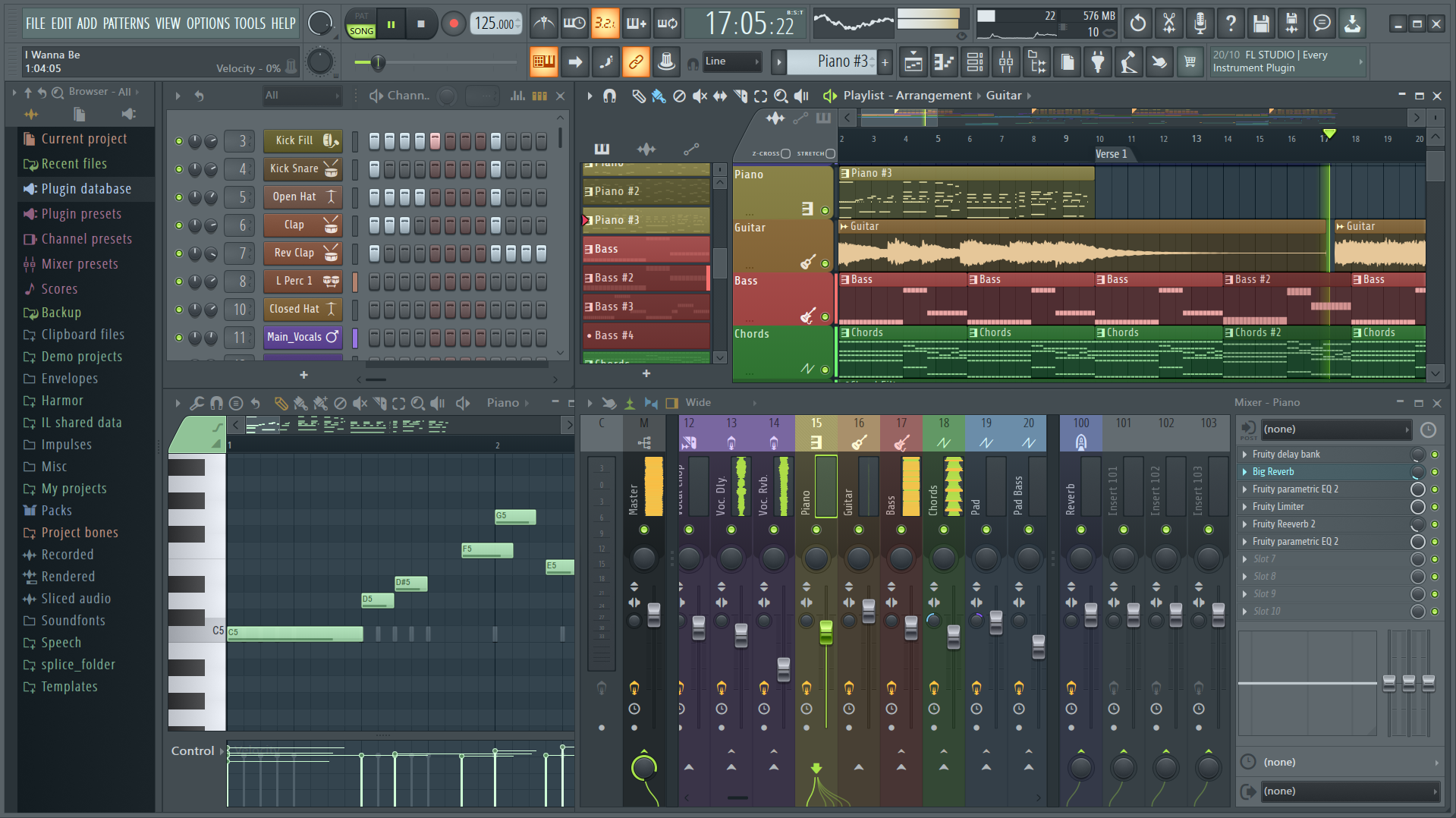 FL Studio, previously known as Fruity Loops, is a digital audio workstation (DAW) made by Image-Line. It was developed by Didier Dambrin in 1997 as a four-channel MIDI drum machine, but over the years,
Dombrin developed it into a popular and complex digital audio workstation, later renaming it to FL Studio in 2003 after a threat of a lawsuit by Kellogg's. The digital audio workstation is known for its simplicity, ease of use, and affordability. It works for both Windows and macOS and has a phone app as well called FL Studio Mobile.
Price
FL Studio offers 4 different versions to choose from: FL Studio Fruity Edition, FL Studio Producer Edition, FL Studio Signature Bundle, and FL Studio All Plugins Edition, at $99, $199, $299, and $499 respectively.
The $199 Producer Edition is the recommended version to buy; as the more expensive ones offer the same exact software. You merely receive more FL Studio native plugins the higher up you go. So you get more plugins if you pay $299 or $499 versus $199, but the same DAW.
The $99 edition doesn't offer recording or audio clips, so it is not good practice for electronic music. FL Studio comes with free lifetime updates to the software after your initial purchase, so every new version of FL Studio is free.
Features
As stated above, FL Studio is known for its simplicity and ease of use. Its design is fairly standard as modern DAWs go, featuring the basics such as your mixing view, arrangement view, piano roll, files on the left-hand side, MIDI capabilities built-in, an instrument rack and effect chains.
FL Studio is different from the other two DAWs in its design; it offers "windows" for its main work views rather than having one integrated window open at all times.
So, instead of having an arrangement view and a session view like Logic Pro X or Ableton, for either creating music or performing music, the piano roll, arrangement view, instrument view, and mixing view are all separate windows that you can open and close.
Aside from more subtle and in-depth details, FL Studio features just about everything you'd get with Ableton and Logic Pro; however, the difference becomes how these features are implemented, designed, and integrated into the DAW.
Mostly all of the features are there, but the features don't force you into an optimal workflow to enhance your creative experience as Ableton does. There are also at least a hundred different little subtle things that it simply lacks compared to Ableton.
While some of the stock instruments plugins and effects FL Studio offers are better than some of Logic Pro X's and Ableton's plugins, overall, they aren't quite as good.
FL Studio offers a far superior piano roll compared to the other two, however, with many more MIDI editing features that are actually useful. Making drum patterns using their channel rack is great, too, especially for hip-hop producers because of how quickly you can make patterns.
Why Choose FL Studio?
FL Studio is a great beginner and intermediate music production software that is affordable and may work better for hobbyists and music producers who aren't looking to achieve the most optimal workflow in terms of time saved, efficiency, and productivity.
While I would not recommend FL Studio if you are serious about electronic music production, have enough money to afford Ableton, and use the DAW every day (or almost every day), FL Studio does everything that Ableton does and it does so in a manner that is much easier to learn and is much cheaper.
Who Uses FL Studio?
FL Studio is used by Porter Robinson, Madeon, and Martin Garrix.
You can find Get FL Studio here;
Best DAW for vocalists and instrumentalists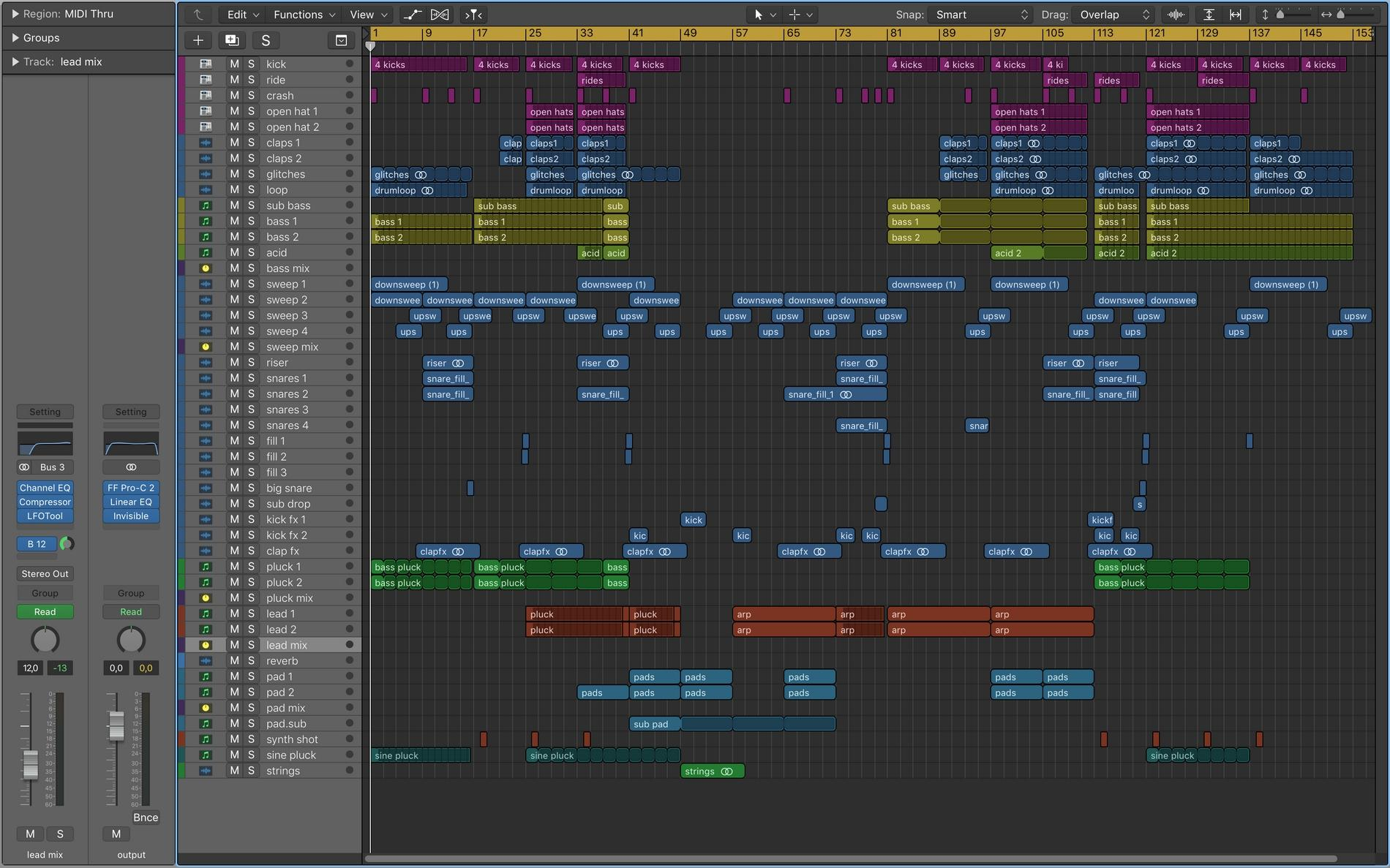 Logic Pro X is a digital audio workstation developed by the company Logic that works exclusively for macOS and it is the second most popular DAW right behind Ableton Live.
Initially starting as a MIDI sequencer program for the Atari ST platform in 1987, Logic Pro X developed over time through different technology platforms until they were bought by Apple in 2002.
They have been improving Logic's software incrementally, but unlike Ableton Live, Logic has focused on being a complete music production DAW for producers and musicians for most of its career.
Price
Logic Pro X only has one standard version for $199 available in the app store and on other third-party websites. Logic offers a free trial of Logic Pro for 90 days.
Features:
Logic Pro features a simple and easy-to-use interface that can handle up to 255 audio tracks. The stock instruments and effects overall may be the best out of the DAWs in this article and outperform other DAWs such as Pro Tools, Bitwig Studio, and Reaper, too.
The user interface is pretty traditional when it comes to modern DAWs: files on the left-hand column, arrangement view or session view on the main page with an optional piano roll, record, BPM, audio and midi recording at the top, plugin windows, nearly limitless tracks to add virtual instruments and effects, and more.
Logic runs only 64-bit AU plugins instead of VST plugins, so some of your underground plugins from programming and music enthusiasts may become irrelevant on the platform.
Logic offers a lot of advanced features that many users appreciate such as virtual drummer, where the software mimics how a real drummer plays for you so you can create a realistic-sounding performance, or flex mode, which allows you to fine-stretch a sample in a precise way. Through and through they outperform FL Studio in this regard.
It comes with 25 free software instruments, 9 MIDI plugins, 70 effect plugins, and tens of thousands of different sounds including drums, loops, samples, and more.
The mixer supports up to 1,000 stereo audio channel strips, up to 1,000 software instrument channel strips, up to 1,000 auxiliary channel strips, up to 256 busses, up to 1,000 external MIDI tracks, 15 inserts for internal or Audio Units effect plug‑ins, 8 inserts for internal or Audio Units MIDI plug‑ins, 12 sends per channel strip, pre or post‑fader, or post‑pan, and 32 groups for audio, software instrument or MIDI channel strips.
Why Choose Logic Pro X?
Logic may be best for your needs if you are a musician, instrumentalist, or vocalist who uses macOS and primarily focuses on recording music. While you can produce electronic music with Logic Pro, and many producers do, the workflow simply doesn't compare to that of Ableton; your productivity while using the DAW won't be as optimal. Nonetheless, Logic has a great and intuitive interface, an affordable price, and arguably the best stock instruments and samples out of the bunch.
Who Uses Logic Pro X?
Logic Pro X is used by Calvin Harris, Disclosure, Kygo, Swedish House Mafia, Hardwell, and Alesso among many more electronic music producers.
You can get Logic Pro here: Logic Pro X.
Best DAW for MIDI production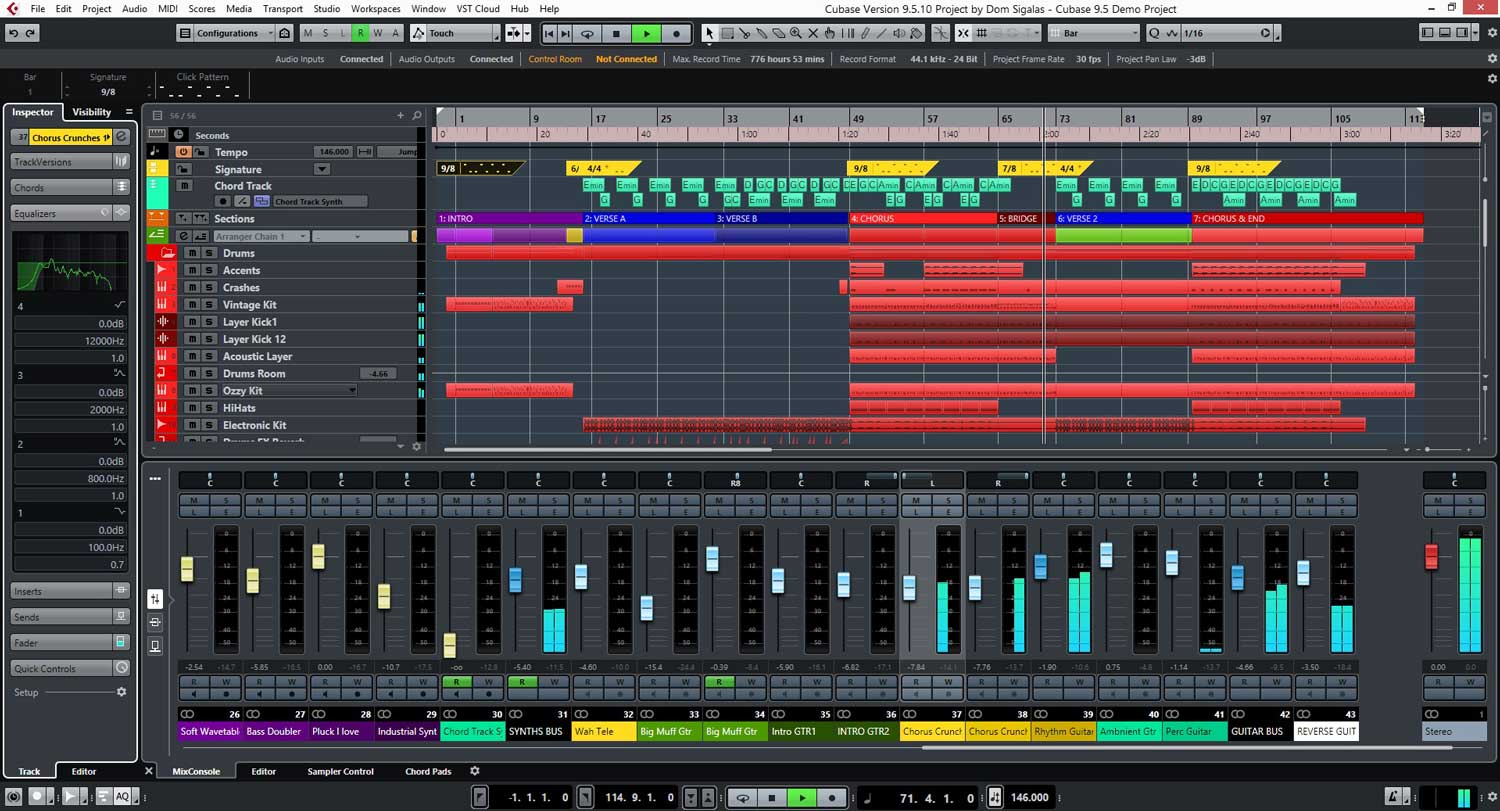 Cubase is a digital audio workstation made by Steinberg that first started on the Atari ST in the late 1980s before moving to macOS and Windows. In 2022, their flagship DAW Cubase Pro 12 is a versatile, powerful, and smart production platform. The platform's biggest strength is its ability to facilitate the creation of MIDI with virtual synths.
Price
Cubase is offered in three different versions. Their minimalist Elements 12 ($99.99) allows users 48 audio tracks, 24 recording tracks, and 64 MIDI tracks. This version offers over 1,000 sounds, two instrument plugins, and 45 mixing and effects plugins.
Their next tiered version, ($329.99) Artist 12, allows unlimited tracks and offers 2,600 sounds and 59 effects plugins. It also adds two synthesizer instruments and some MIDI editing capabilities.
Their Pro 12 version ($579.99) adds 256 VCA Tracks, Control Room for flexible monitoring, a better score editor, Dolby Atmos support, and a slew of mixing. and mastering upgrades.
Features
First of all, it should be said that the main issue with using Cubase for electronic music production is that there are very few tutorials about electronic music production using Cubase. Mostly all of the tutorials for electronic music production are made for Ableton users and FL Studio users, with Logic Pro coming in at #3.
Cubase features a traditional DAW arrangement with your arrangement view upfront, an openable piano roll for writing MIDI, files on the left-hand side, and an optional mixer view(Mix Console). Where Cubase is different in its layout is that the play/stop buttons and BPM menu are at the bottom instead of the usual top. The top menu contains a lot of editing and playback features.
One of Cubase's strongest features is its Score Editor, which includes advanced notation tools so users probably won't need any separate notation software. It supports lyrics, guitar tabs, drum notes, and lead sheets, and can import and export XLM files.
Another one of Cubase's strengths is its 64-bit audio engine that supports 192Khz recording and 5.1 surround sound. It has an arguably stronger processing engine than the other three DAWs listed in this article.
Cubase features a Mix Console that looks extremely similar to the other mixers on this list but is a little more geared towards pure mixing rather than live performance like Ableton is.
Why Choose Cubase?
You should choose Cubase if you particularly use DAWs for MIDI recording and composing music with virtual instruments. If you focus on these things, then using Cubase can be an overall advantage for your workflow.
However, if you are interested in live performance, learning and tutorial videos, and having the optimal workflow for electronic music production, Cubase probably isn't the right software for you.
Who Uses Cubase?
Tiesto, Infected Mushroom, Ian KirkPatrick (Dua Lipa), Hans Zimmer, and more.
Get Cubase here: Reverb.com, Sweetwater.
Conclusion
For electronic producers, Ableton is hands down the best DAW because of its far superior workflow and efficiency. It is also hands-down the best DAW for live performance.
Ableton wins among electronic music producers because of its workflow. It does a lot of little things very well that reduce annoyances, frustration, and time spent solving technical problems.
However, Logic Pro X is recommended for vocalists, instrumentalists, and those generally more focused on recording than anything else, while FL Studio is recommended if you enjoy music production in your free time and aren't concerned about the inferior workflow.
FL Studio is affordable, very simple, and easy to learn with. But, the best DAW for electronic producers in 2022, hands down, is Ableton Live 11.