Last Updated on July 11, 2023.
A gate VST plugin is an indispensable tool in any music producer or mix engineer's toolbox because of its ability to fix unwanted noise bleed and shape the dynamics of transient sounds. Because of a gate plugin's importance in the music-making process, most DAWs such as FL Studio, Ableton, and Logic Pro X have either a stock gate plugin or a limiter with a gate feature in it.
However, if you want to expand your capabilities and get something a little more in-depth, versatile, or precise, we're going to go over the best gate plugins on the market in 2022 in this article.
What is a Noise Gate?
A noise gate is a plugin that filters out the signal of a track or group of tracks below a certain threshold. Commonly used with drums, percussive elements, and/or poorly recorded audio, a noise gate is a must-have item in any serious music producer or mix engineer's toolbox.
Difference Between Gate and Expander
As we've just explained, a gate is a plugin that eliminates a signal below an adjustable level. An expander, on the other hand, decreases a signal below an adjustable level. That's the only difference. So, an expander acts as a backwards compressor, in that it increases dynamic range after making the lowest signals lower. A noise gate plugin also increases dynamic range, but it doesn't have a ratio to allow anything through. It's a wall.
List of the Best Gate VST Plugins
Let's kick things off with the absolute best gate VSTs I think you can get, starting with my top choice, the FabFilter Pro-G.
Best overall gate VST currently available!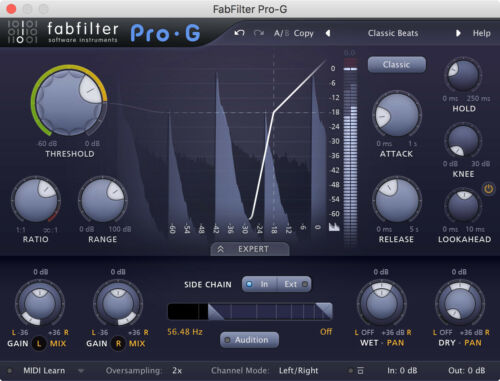 Price: $179
Fabfilter is one of the best plugin companies in the world with hit products such as Pro-Q 3, Pro-R, Fabfilter Saturn, and more. The Pro-G is an all-in-one gate and expander plugin that gives users great versatility and everything you need in a gate plugin.

UX: The UX has a ton of functionality but is not as intuitive as other gate plugins on this list. It has a feint graphical display in the center that shows both the ADSR of the control knobs and the input signal. The main control is the threshold knob which shows you the volume of the signal. The ratio knob below the threshold allows you to use the plugin as an expander or a gate (gate is infinity on the threshold).
Features:
Lookahead: The lookahead knob, while it gives you a small latency, allows the gate to react even faster than normal which improves its function.
Hold: Not every gate plugin has a hold function, which boggles me because it is useful in all cases. Pro-G has a hold button which will allow you to work with certain drum hits that have an ADSR that's a bit more rectangular in its shape.
You can get Fabfilter Pro-G Here: Pluginboutique, ADSR Sounds, Sweetwater.
Best Value and most bonus features (all-around excellent plugin)
Price: $35
The Waves CLA Mixhub is a plugin made by world-renowned mix engineer Chris Lorde-Alge (Muse, Green Day, Rod Stewart) that mimics an SSL board. With this plugin, you get an overdrive, filters, EQ, 2 compressors, and a noise gate/expander/ducker. While the all-around plugin is excellent, you can simply use the gate/expander/ducker as a solo tool if you'd like to use it as purely an SSL-styled gate/expander/ducker plugin.
UX: The user interface is a bit complex at first for those that aren't familiar with how noise gates or SSL boards work. CLA Mixhub allows you to flip between gate, expander, and ducker, with ADSR controls, range, and a threshold knob. While the plugin lacks a graphical user interface to be able to see the sounds, it is very easy to mix the track by ear and get it to your liking.
Features:
Hold: Most noise gate plugins have an ADSR but they don't have a hold parameter. CLA Mixhub offers a hold parameter which helps if you want to have a broader range of ADSR features.
Ducker: CLA Mixhub comes with a ducker and sidechain features. So if you're the type of mixer who likes to sidechain a kick and a bass, you can do this with CLA Mixhub.
You can get Waves CLA Mixhub Here: Waves Website, Sweetwater.
Most versatile noise gate + expander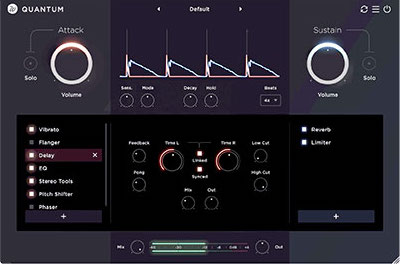 Price: $150
Quantum is a plugin made by Wavesfactory (Spectre, Cassette, Trackspacer) that is labeled as a "transient shaper" but gives you full gate capabilities. Quantum is different from any other gate plugin or transient shaper because it separates an audio signal into its attack and sustain parts.
UX: The user interface overall is very simple and intuitive. It comes with a graphical display in the center, with two main control knobs: attack and sustain on the left and right. With these controls, you can adjust the volume of both the attack and sustain of the sound. You can then use their built-in effects suite which allows you to manipulate both the attack and sustain with 16 different effects: vibrato, flanger, delay, EQ, pitch shifter, reverb, limiter, stereo tools, phaser, and more.
Features:
Effects panel built-in with 16 different effects
Ability to manipulate both the attack and sustain of the input signal
You can get Wavesfactory Quantum Here: Pluginboutique.
Precise gating and allows you to gate specific frequencies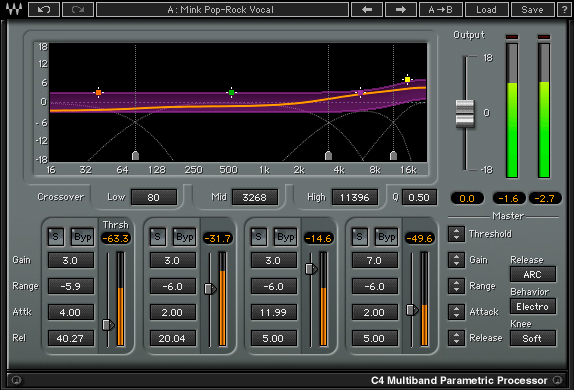 Price: $30
The Waves C1 compressor/gate is a classic Waves plugin that offers a compressor, a gate/expander, and filter/EQ modules.
UX: The UX looks a bit outdated because it is an older waves plugin, so right off the bat things aren't as simple and intuitive as you'd hope them to be. Nonetheless, with a little bit of experimentation, it's easy to see what the plugin has to offer. It acts as a multiband gating tool with gating of the low, mid, and high-frequency bands all on the main window.
Features:
Split-band dynamics allow you to gate only the frequencies that you want to gate! This gives you a lot more versatility to sculpt the sound you want but also makes the user experience a little more complex.
External and internal side-chaining
The look-ahead feature allows the processor to have more precision with its gating.
Waves C1 gives users a wide range of presets to use. While normally gating isn't a "preset" type of plugin, it's more of a utility tool, the presets can help those who are looking to be creative in the production stage.
You can get The Waves C1 Here: Waves Website, Sweetwater.
Great for drum Gating!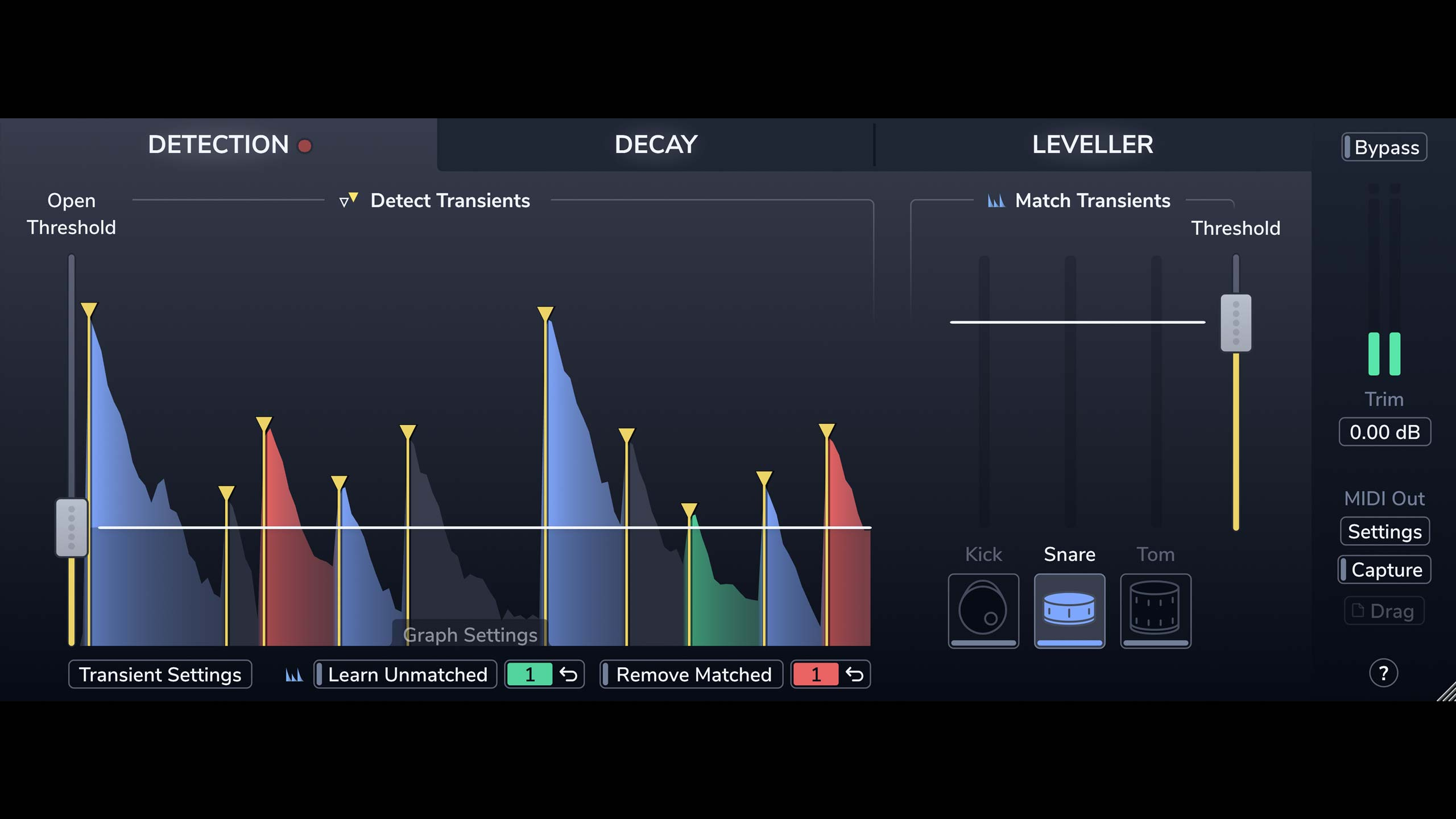 Price: $40
The Oxford drum gate saves producers and engineers time during the mixing process by offering a simple and versatile tool that allows you to both gate and expand drum hits precisely and intuitively. UX:
UX: The Oxford Drum Gate comes with a simple graphical user interface that shows you the threshold as well as the transients that are coming through. It allows you to choose between kick, snare, and tom, which limits the tool to those three drum hits but allows you to more easily mix those three drum hits. It also comes with three different tabs: detection, decay, and leveller.
The detection shows you what's going on and allows you to select the drum hit and set the threshold, the decay works as an expander and allows you to bleed some signal through while allowing you to adjust the signal based on the frequency spectrum like an EQ. The leveller allows you to level the drum transients over time if you want them to be more consistent (maybe the drummer was hitting some snares too loud in the chorus section, for example).
Features:
Leveller: the leveller allows you to avoid using a compressor on your drums which makes for a more natural sound. Oxford Drum Gate gives you a graphical display to more finely level your drum hits (if need be).
Gate by EQ: Oxford Drum Gate is probably the most precise gate plugin on this list because of its ability to finely EQ the sounds you want to gate or expand. If you hate the high-end of a drum sound but really like the low-end bleed, you have the controls to finely choose the frequencies you want to gate or expand.
You can get the Oxford Drum Gate Here: Pluginboutique, ADSR Sounds, Sweetwater.
Best Free Gate VST Plugins
| | | |
| --- | --- | --- |
| Floorfish | VST, AU | Windows, Mac |
| Bob Perry Gate | VST3, AU | Windows, Mac |
| A1TriggerGate | VST2, AU, AAX | Windows, Mac |
| Renegate | VST, AU, AAX, LV2 | Windows, Mac, Linux |
| Dead Duck Gate | VST | Windows |
Floorfish (Windows, Mac)
FLOORFISH is a simple expander/gate plugin that is easy to set up and that offers a broad variety of processing capabilities, ranging from slight expansion, background noise attenuation to extreme gating effects.
What's different from similar units is the ability to scan the source and adjust the transition curve accordingly.
While it may be quite limited when compared to its premium counterparts, it really does work well, which is why I think that it deserves a spot in this list.
You can download Floorfish here.
StormGate 1 (Windows, Mac)
StormGate1 is a rhythmic gate that lets you shape audio with an amplitude of patterns, and these patterns can be freely drawn by hand or with the aid of powerful drawing tools.
Within seconds you can transform a static pad into an exciting rhythmic part, create new rhythms from vocals, instruments, and noises of any kind.
It can also be used to simulate compressor sidechaining.
Features
Free drawn amplitude envelope.
Powerful envelope drawing tools: Free, step, spike and exponential.
Variable quantization grid.
16 patterns with variable length and chaining support.
Steps of one octave or one octave triplet.
Intelligent host loop support.
Advanced synchronization.
Swing on octaves and sixteenth.
Volume controls for original and gated audio, with crossfading control.
13 functions for editing the envelope (including randomizations).
You can download StormGate1 here.
Bob Perry Gate (Windows, Mac)
Bob Perry Gate is the ideal way of making the best of your signal. Real Side Chaining and the choice between three distinct- smooth sounding algorithms make Bob Perry Gate a fantastic gate plug-in.
Perfect for bringing that noise level down, be it for Drums, Vocals, Guitars, or just to be creative.
Main features:
Three distinct algorithms
Optional Real Sidechaining
Easy-to-use Graphical User Interface
Gain Reduction Metering
Numeric Data Input
Windows and Mac OS X support
32-bit and 64-bit versions, universal binaries for OS X
Retina Display support on OS X
comes bundled with demo versions of Gate Pro, ATC, Ducker, Ducker Pro, Crossfader
It's really free!
You can download Bob Perry Gate here.
Cymbal Killer (Windows, Mac)
Cymbal Killer is a 2-band gate especially designed for drums.
With it's two bands you can have different envelope settings for the sustain (low frequencies) and attack (high frequencies) of the drum.
It allows the sustain to breathe while keeping the attack short to kill the cymbal bleed entering through the close mics on a drum set (hence the name).
It has a side-chain input and high-pass, low-pass and parametric filters (shared by the two bands) for focusing the sound of the drum on the detector circuit.
Lookahead for allowing the full transient through (introduces latency).
Two visualizers (one for each band) for watching the envelope.
Mix slider for allowing a mix between the original clean signal and the gated signal.
You can download Cymbal Killer here.
A1TriggerGate (Windows, Mac)
In the last decade, it was a very popular producing style in all the dance music genres to have at least one 'rhythmic gated' sound in almost every production. Nowadays this powerful production technique for achieving more rhythmic dynamics got its revival in house music, dubstep, trap, hip-hop and even pop tracks.
A1TriggerGate is a very flexible yet simple and intuitive tool which even in expert mode is simple to understand and to tweak all the parameters available.
It comes with a couple built-in presets as well, but these are generally more geared towards EDM/dance, which means that if you're not into that kind of music, you won't be able to take full advantage of them.
However, since using this plugin is so easy, you don't really need to rely on presets.
You can download A1TriggerGate here.
Renegate (Windows, Mac, Linux)
Renegate is simply just a full-band Gate plug-in and it has an always smooth, natural sound, and is quick and easy to operate, making gating a lot easier.
But surface-level simplicity is only possible because it's complicated on the inside:
Program-dependent hysteresis automatically captures the desired phenomenon.
Builtin Look-Ahead lets you hit the transient 100% of the time.
Program-Dependent Auto-Release
Expensive 43 bands psychoacoustic auditory model for State-of-the-Art envelope detection.
Alternative ways to apply Gain Reduction, namely with a 1-pole lowpass or highpass (Full Edition only)
Oversampling (Full Edition only)
Built-in Sequencer (Full Edition only)
Raw knob to get back digital grit if needed (Full Edition only)
That all makes Renegate a workhorse plug-in for all your creative (or boring) gating needs.
You can download Renegate here.
Dead Duck Gate (Windows)
The side chain signal in the lower half of the diagram is derived from either the main stereo input (1 & 2) or an external stereo input (3 & 4) as determined by the 'External' switch.
It can then be adjusted using the 'Trim' and 'Low Cut' controls before being used to control the output signal.
The 'Listen' switch can be used to temporarily divert the sidechain signal to the audio output to allow the signal to be monitored, both aurally and via the input level meter.
Features
Input gain control (+/- 20 dB)
Gate threshold down to -40 dB
Attack, hold and release controls
Sidechain input gain trim
Sidechain 12 dB/oct high-pass filter
Side chain 'listen' option with metering
Option external sidechain input
Level meters for input and output
You can download the Dead Duck Gate here.
Analog Rack Noise Gate (Windows, Mac)
The Analog Rack Noise Gate is the latest addition to the Nembrini Audio's Plugin Collection with the same simple user interface and beautiful sound, and it is a very simple but powerful noise gate plugin especially tuned for guitar and bass.
Nembrini Audio has taken the guitarists most preferred analog and digital effect pedals and has repacked it in new rack style plugins easy to use and extremely powerful at the same time, with the addition of a custom design tube preamp virtual circuit which gives color to the signal in a very special way.
Just insert the Analog Rack Noise Gate plugin in your tracks to hear its beautiful analog tube coloration!
Download Analog Rack Noise Gate here.
T-Force Trance Gate 2 (Windows)
T-Force Trance Gate 2 is an envelope controlled rhythmic gate effect that is used to chop an incoming audio signal like e.g. a pad sound into a rhythmic sequence.
This kind of effect was used a lot in old classic trance tunes which also gave this effect its name.
In early days of trance music this effect was realized by using a noise gate device. The rhythmic sequence was done by using e.g. a hi hat sequence which was routed to the sidechain input of the noise gate.
The T-Force Trance Gate 2 uses an internal step sequencer instead, to make the workflow easier to create this effect. It also can be switched to a sidechain mode, to use it the "classical" way by using an external audio signal as a sidechain input.
The Trance Gate 2 also has a multimode filter. The effect is fully controlled by an amp envelope and a filter/resonance envelope. With all these features it's even possible to turn your favorite pad sound into an arp-like sequence.
Features
Effect device for using as insert effect or send effect
Stereo audio input (L/R)
Stereo sidechain input (L/R)
Bypass mode
Step sequencer with up to 32 steps
Adjustable tempo with bpm host sync
Multimode filter with 13 different filter types, with controls for cutoff, resonance, cutoff envelope amount and resonance envelope amount
1 ADSR amp envelope with on/off function
1 ADSR filter cutoff envelope with on/off function
1 ADSR resonance envelope with on/off function
2 LFO's
Mod Matrix
You can download T-Force Trance Gate 2 here.
What Gate Plugin Do I Recommend The Most?
While not listed as #1 on this list, the plugin I'd recommend the most is CLA Mixhub. While it is not the best gate VST plugin on this list, it is by far the best value on this list. To be clear, I think plugins like Fabfilter Pro-G and Quantum are better gate plugins than CLA Mixhub, but I wouldn't recommend spending $150-$180 on a gate plugin.
A gate plugin, in the grand scheme of things, serves as a utility and is not worth going for luxury when there are so many options that get the job done similar to the top-of-the-line products. In my opinion, spending top dollar on a gate plugin is like buying the iPhone 13 when you already have the 12. Sure it's a little bit better, but is it worth spending all that money for a tiny improvement?
Wrapping up
In this article, we've gone over the best gate plugins on the market in 2022. While gating is a simple utility-type function, many of these plugins go beyond just a simple gate plugin and offer the type of functionality that won't be included in your stock gate VST. Each plugin is completely different from the next one but also offers your basic gating functionality. I recommend CLA Mixhub because I think it's the best value noise gate on the market.