Last Updated on August 18, 2022.
A channel strip plugin is simply an emulation of an actual channel of an analog mixing console. It usually contains a few simple tools all wrapped into one: gain, EQ, compression, and phase. Some channel strips will even have a gate or de-esser, and in this article, I will be listing the best ones, both free and paid.
So, without any further ado, let's get started!
List of the Best Channel Strip Plugins
I will be listing the plugins in order from best to "worse", even though none of these are actually bad.
The first one on this list, the Waves SSL E-Channel is by far the one that stands out the most, especially when considering the price.
Best SSL Channel Strip Plugin out there!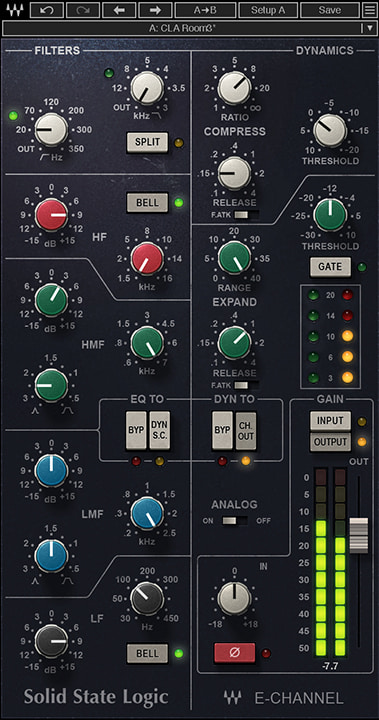 Price: $35.99.
The Waves SSL E-Channel is based on the Solid State Logic 4000-series console's all-discrete design and its Class A, VCA chip, and these SSL consoles are the ones that have been used throughout the years to create numerous amounts of hits.
The SSL E-Channel is divided up into distinct sections: Filters (these come first in the chain) which can be adjusted to cut off some frequencies depending on the track's needs, then Compression, and then EQ.
The EQ can be moved in from of the compressor depending on how you want to process the sound by pressing the "Channel Out" button.
The compression section only features four controls: Ratio, Threshold, Release, and the F. Attack Switch, which essentially lets you choose between a slow attack and a slightly faster one (none of them are really that fast).
There are many more controllable parameters on this plugin, like the EQ and the Filters, as well as LMF and HMF peak bands, and more, as I mentioned in the beginning, but I won't go into detail since we're mainly focusing on the compressor section. Just know that it's not just a compressor plugin that works really well for vocals, but it's actually a lot more.
User Interface: The Waves SSL E-Channel is a very simple and straightforward plugin to use and this is mainly because of the interface which essentially looks just like, well, the channel strip of the SLL-4000 console. It only features a handful of knobs and switches and that's it, and you should be able to use all of its included features in no time.
Character: This plugin does add a bit of character and grit to the signal, which is also why you may want to use it as a second compressor on the vocals (use a transparent one first to tame the vocals and then use the E-channel to add something like -3 to -4dB reduction to further compress the sound and add some color).
Distinctive Features:
Extremely easy to use.
Zero Latency.
Not just a compressor (Includes filters, EQ section, and more).
Great for vocals, acoustic or electric guitar, basses, and even drums.
Uses: The SSL E-Channel is one of the most versatile plugins out there, especially considering how easy it is to use, which means that you can probably get away with using it on any track (I would highly suggest trying it out as a second compressor when processing vocals). Just remember that it may add some color or grit to the sound.
You can get the Waves SSL E-Channel here: Waves Website, Sweetwater, Best Service.
Brainworx bx_console SSL series
The channel strips found on all those iconic SSL consoles set the golden standard for audio engineers. If Rupert Neve got the ball rolling in the 60's then Colin Sanders drilled that ball right into the back of the net in the 70's.
Technically these are 3 different plug-ins but asking me to choose one SSL emulation is like asking a parent to choose their favorite child! With their 9000 J, 4000 E, and 4000 G plugins, Brainworx have really outdone themselves.
With game-changing tolerance modeling technology and the help of Solid State Logic engineers, they have created painstakingly close replicas of the classy soulful consoles.
These plugins are more than just channel strips, they offer you 72 individual and unique channels just like their analog console counterparts. All three plug-ins feature EQ, filter, and expander/gate modules.
What differentiates them is: the 4000 E and G plug-ins allows you to choose between a G or E style dynamics section, and the 9000 J offers switchable E and G style EQ filters. Although all 3 are great on all genres, the 4000 series plugins add a crispy drive suited for rock and the 9000 has a smooth presence ideal for R&B.
This is also a great mastering VST plugin as well that should allow you to get that SSL sound in your mixer.
The Brainworx SSL series of plug-ins are available as 64-bit VST2/VST3 plug-ins for Windows and Mac. They are all individually priced at $350.
Find out more about the Brainworx bx_console SSL series here.
ChannelX
Lindell Audio have released a channel strip emulating their much lauded 500 Series hardware modules. This strip is perfect for those looking to add a bit of beef and bounce to their bass or tighten and brighten their celestial strumming.
Its 6X-500 preamp comes with high and low pass filters with adjustable slopes and allows you to exclusively boost the bottom and top end frequencies to your taste before it hits the amp.
Like its hardware cousin, the 7X-500 is a tip of the hat to the classic 1176 Peak Limiter and wait till you get a peek at this limiter! It features a high passable sidechain and an analog warmth switch to give you some real extra oomph.
Its PEX-500 is based on the classic Pultec EQ and features mid/side processing capabilities to help spice up your frequency fiddling.
ChannelX comes as a 64-bit VST2/VST3 for Mac and Windows. If you like the look of Lindell's X you can expect to fork out $150.
Find out more about ChannelX here.
UltraChannel
Eventide's UltraChannel has a little something for everyone, it's a modern style channel strip with some classic hardware emulations to keep all you analog admirals happy.
Its modules are fully rearrangeable, so this is perfect for those who need flexibility in their mixing and mastering sessions.
UltraChannel includes a pre-amp, compressor, gate, and a 5-band parametric EQ. It also features a separate compressor in its O-pressor which is based on the vintage Omnipressor, a perfect tool to tighten your dynamic grip.
It offers pitch shifting and delay line modules based on the sounds of their H8000FW multi-effect unit.
Eventides channel strip comes as a 32/64-bit VST2/VST3 for Windows and as a 64-bit VST2/VST3 for Mac, an iLok account is required for both (A bummer, I know). The damage on this charming channel is $250.
Find out more about UltraChannel here.
Brainworx bx_Console N
If you do your research, you will find most mixing magicians trick up their sleeve is the patience of a saint and a nifty little Neve.
This is another Brainworx emulation based on the Neve VXS, which was created by AMS Neve in 1997. It uses the same tolerance modelling technology as their SSL emulations to truly capture the soul of the coveted console.
It gives you 72 unique channels of the big and bold console to toy with. Its dynamics section offers a compressor, limiter, expander, and gate.
It also includes a 4-band EQ with flexible high and low-pass filters. Its THD feature adds some of that serene and sultry saturation Neves are known and loved for.
Console N is available as a 64-bit VST2/VST3 for Mac and Windows. Free? Don't be naïve! you best believe you'll pay $300 for this Neve.
Find out more about Brainworx bx_Console N here.
Neutron 3
iZotope's Neutron 3 is for those who aren't living in the past and fawning over sheepish analog clones. This channel strip is for producers in the here and now who need something versatile, modern, and powerful.
Its interface is glossy and neat, offering clear visualizations of the mix you've got cooking. It features a 12-band EQ, compressor, gate, and exciter.
For those open to suggestions, it offers you a mix assistant which can recommend enhanced processing settings to spruce up your stale songs. It also features a sculptor module, which uses a combination of equalization and compression to mold and mesh your sounds to your liking.
Neutron 3 is available as a 64-bit VST2/VST3 for Mac and Windows. Getting your groove on with Neutron will set you back $400.
Find out more about Neutron 3 here.
Scheps Omni Channel
Omni Channel was designed by mixing veteran Andrew Scheps (Red Hot Chili Peppers, Green Day, Hozier), who does an excellent job at giving you classic console vibes that leave your wallet intact and your landlord off your back.
It features a preamp, compressor, 4-band EQ, gate, and de-esser. The de-esser can remove a lot more than just s's, it allows you to remove any range of frequencies on the spectrum you desire. All these modules are fully rearrangeable, it even features an insert slot for adding an extra Waves plug-in to your strip.
Waves have made this channel strip available as a 64-bit VST3 for Windows and Mac. You can channel your inner Scheps for a bargain of $39.
Find out more about Scheps Omni Channel here.
Summit Audio Grand Channel
Softube's software sibling of tried-and-true Summit Audio hardware proves that you can have a sprinkle of analog charm and a dollop of digital flexibility at the same time. You will be amazed by how straightforward pot fiddling opens the door to grand processing possibilities.
Its EQ is based on the EQF-100 and offers you 4 bands plus low and high pass filters to dispose of your audio gunk. Its compressor was modelled on the TLA-100A, keeping a minimalistic two dial and 4-switch interface with sidechain capabilities.
Both these models can be re-arranged to give you a different variant of your comp and EQ sound sandwich.
This grand channel operates as a 64-bit VST/VST3 for Mac and Windows and requires an iLok account. This channel won't cost you a grand, but it will cost you $135.
Find out more about Summit Audio Grand Channel here.
Brainworx bx_Console Focusrite SC
The Focusrite Studio Console background story will add some analog warmth to the hearts of any audio enthusiast.
The blueprint for this console came from recently deceased audio engineering icon Rupert Neve when he was asked by the fifth Beatle George Martin to create a musically minded pre-amp, which led to the creation of the company Focusrite, which led to the creation of a console!
Through financial complications Focusrite was acquired by Soundcraft founder Phil Dudderidge, who helped Rupert's design blossom into the Studio Console. Only 9 exist so it's not likely you will ever get your paws on the real thing, but this plug-in brings you pretty damn close.
This is a full console emulation which features 72 individual channels. Its ISA110 EQ is perfect for adding some juice to your highs and poke to your lows. Its ISA130 dynamic module features a compressor, limiter, de-esser, expander, and a gate.
It also comes jam packed with presets so you can view a few snapshots of what the SC was made to do.
This classic channel strip comes as a 64-bit VST2/VST3 for Windows and Mac. British excellence comes with a price tag of $350.
Find out more about Brainworx bx_Console Focusrite SC here.
EMI TG12345
Next, we have channel strip from a Waves and Abbey Roads Studio collaboration, EMI TG12345. Based on the first solid-state console created which was used on legendary albums such as Dark Side of the Moon and Abbey Road, Waves have done it again.
They offer up a vigorous and versatile emulation with a reasonable and respectable price-tag.
Its GUI is a pleasant and tidy recreation of the original hardware. It features a 3-band EQ, compressor, and a limiter.
Its ultra-versatile dynamics module is its strong point, it's capable of delicate leveling of vocals, adding punch and snap to your snare, or pleasantly choking the life out of your beyond-brazen basslines.
This virtual TG12345 is available as a 64-bit VST3 on Mac and Windows. Oh me, oh my, $36 for an EMI.
Find out more about EMI TG12345 here.
SSL Native Channel Strip
Sometimes in audio you will find there is nothing quite like the real deal. This plug-in was created by Solid State Logic themselves and as you can imagine they have provided us with a diligent digital duplicate of the classic console.
It lacks in comparison to the flexibility of the Brainworx SSL consoles, as it is just a single channel strip compared their full console emulation, it makes up for this lacking with one simple fact; This one channel strip sounds more like an SSL than any on the Brainworx consoles.
Native Channel features a 4-band EQ which can be switched between E and G series characteristics and includes low and high-pass filters.
Its dynamics module features a compressor, a gate, and an expander, all of which feature sidechain capabilities. All these modules can be shuffled and stationed to your satisfaction.
Solid State Logic have made their channel strip available as a 64-bit VST2/VST3 for Windows and as a 32/64-bit VST2/VST3 for Mac, both of which require an iLok account. A sliver of a logical state of sound is priced at $330.
Find out more about SSL Native Channel Strip here.
Best Free Channel Strip VSTs
Some people seem to think that Freeware plugins can't perform as good as the paid ones, but the truth of the matter is that some free VSTs out there works just as well as their premium counterparts.
The first free Channel Strip VST in this part of the article is definitely worth considering since it works and sounds fantastic.
Loaded
This first freebie was designed by a budding unsung engineer named Ridvan Kucuk, who is offering up all his plug-ins for nothing but credibility and respect from his fellow students of sound.
It features a preamp, de-esser, gate, equalizer, compressor, and a main controller section. Its preamp module is particularly splendid, with a built-in phase inverter and the ability to switch between a microphone preamp and line-level amp.
The downside is that these modules can't be rearranged, but dreams can come true and plug-ins do get updates, so keep an eye out!
You can find Loaded on Analog Obsession's Patreon page as a 64-bit VST/VST3 for Windows and Mac.
You can Download Loaded here.
SCS Channel 2
1208 Audio have a lovely little strip named SCS Channel 2 which is extremely flexible, and although it doesn't cost a dime it can add significant wealth and warmth to your sounds with a bit of tweaking. If you choose to tune into this channel your tunes could soon be widely consumed.
It includes a 4 band EQ, high and low-pass filters, compressor, analog saturation, and a phase inverter. Besides giving you quality processing results, what makes this plugin great is the fact that it's a fully rearrangeable modular channel strip.
You are given complete control of the signal flow, so you will not find yourself painted into a corner like you do with the other set-in-stone channels out there.
Bad news for Mac users, 1208 Audio has only made this plug-in available as a 64-bit VST2/VST3 for Windows.
You can Download SCS Channel 2 here.
DD Channel and Channel 2
Dead Duck Software's DD Channel and Channel 2 are straightforward but powerful channel strips, which are capable of both tidying up individual tracks and letting you become the master of your master bus.
Usually if you saw a dead duck with no bill attached you would have to ring PETA, luckily you can just pop this one into your plugin folder and carry on with your day.
DD Channel features a 4-band EQ, low and high pass filters, compressor, gate, and a limiter. Channel 2 is a duplicate of DD channel minus its limiter section and all its lobotomizing latency that stems from its look-ahead mitigator.
This channel is not just a dumbed down version of the original though, it replaced the limiter with a convenient utility section.
Another win for Windows users, these plug-ins are only available as 32/64-bit VSTs for Windows.
You can Download the DD Bundle here.
T-Chain
T-Chain is the most modern minded free channel strip on this list, it provides some analog flavors but never tries to hide its digital stride and pride. This channel strip would be best suited for EDM producers who need to add some spice but find a stock plugin won't suffice.
Its GUI includes a spectrum analyzer for those who like their eyeballs to lend their eardrums a helping hand. It features analog/digital style compression, an analog/digital style gate, and an analog/digital style EQ. It also offers clip-shifting, saturation, and fuzz effects to keep your processing guessing.
LVC Audio have made T-Chain available as a 32/64-bit VST/VST3 for Mac and Windows.
You can Download T-Chain here.
Cerise
To round off this list I have another vintage style strip from Acustica Audio with Cerise. It's modelled on classic British transformer-based channels such as Rupert Neve's Shelford Channel.
It sounds excellent on guitars, drums, and vocals, so if live instrumentation is your bread and butter this is the free strip for you. You might want to act quick though, this one isn't permanently complimentary!
Cerise features a pre-amp, stereo width and panning, 3-band EQ, limiter, and a compressor. Its interface truly captures that old school channel vibe, with realistic looking pots to fiddle and twist.
The real authenticity comes from its sounds though, when you hear that first compressed snare pop your jaw will drop.
Cerise is a 64-bit VST2/VST3 which Acustica Audio had promoted as only being free until Valentine's day, but lucky for you it's still available for nothing, so grab it while you can!
You can Download Cerise here.
Conclusion
The absolute best Channel strip plugin on this list has to be the Waves SSL e-Channel Strip since it-s the one that offers the best sound, most intuitive workflow, and best feature set in terms of cost.
However, if your wallet is completely empty and you don't have a dime to spend, try out the free plugins I listed, especially Analog and SCS Channel 2.
I hope this information was useful!
Have a wonderful day!